Technology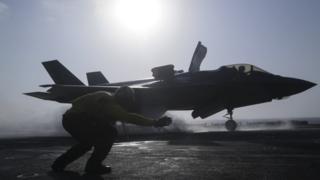 Defence Secretary Ben Wallace has said the military will have to "cut its cloth to meet its ambitions".
He told the BBC's Political Thinking with Nick Robinson's podcast there was a shortfall of funding in the Ministry of Defence's budget.
And he confirmed that he had had a meeting with Boris Johnson's adviser Dominic Cummings about improving the way the MoD spends its money.
The MoD was given £2.2bn, a rise of 2.6%, in September's spending review.
Mr Wallace's comments come after the Financial Times reported armed forces chiefs had had an "urgent meeting" to discuss a budget shortfall – a meeting which Mr Wallace described as "routine".
In February, the Public Accounts Committee, the House of Commons' spending watchdog, reported that the MoD faced a £7bn black hole in its 10-year-plan to equip the armed forces.
Asked about reports that Mr Cummings wants to overhaul defence procurement, Mr Wallace said the adviser was full of "amazing ideas where he has spotted loads of improvement in infrastructure and technology procurement".
---
The Ministry of Defence is a graveyard of broken promises of financial prudence and solvency.
While the truth is many procurement projects are completed on time and within budget, some of the most expensive and high-profile cases do not.
That can be as much the fault of politicians as the military. When yearly balance sheets do not add up decisions are often delayed.
For example, delays to the construction of the Royal Navy's two new aircraft carriers added £1bn to their final cost.
Dominic Cummings will not be the first person who's come from "outside" to shake things up in the MoD. The former Financial Times journalist Bernard Gray was brought into the department in the late 1990s to do much the same.
There have been some individual success stories. But by and large the complex bureaucracy, the inter-service rivalries, the over-reliance on large defence corporations and the constant political meddling make it hard to deliver on bold promises of a revolution in procurement.
---
"He has spotted how that, as our technology horizon changes, how we procure has to happen differently and I am incredibly supportive of what he is talking about," he said.
Mr Wallace added: "The best thing I can do for the men and women of the armed forces is to make sure that we cut our cloth to match our ambition… manage expectations and say to the [services] chiefs that your appetite has to match your stomach.
"By doing so we build our credibility with the Treasury and Number 10 to say: 'Look, we have sorted out our house, when you give us some more money we will deliver on what we're trying to do and there will be no tricks.'"
Mr Wallace also said leaks from within the MoD had not helped its reputation across Whitehall.
"We have to be trusted if we are to persuade the Treasury to fund us for long-term projects," he said.