Science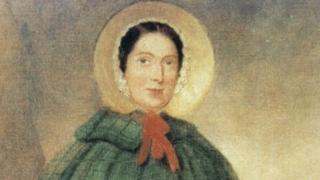 A "rare" letter written by Jurassic Coast fossil hunter Mary Anning has sold at auction for £100,000 – more than eight times its reserve price.
Aged 12 in 1811, Mary unearthed the skull of an ichthyosaur in Lyme Regis, Dorset, and soon gained worldwide acclaim for reptile fossil discoveries.
Her letter from 1829 was to palaeontologist William Buckland about a box of coprolite – fossilised faeces.
A crowdfunding appeal had been launched in a bid to bring the letter to Lyme.
The Jurassic Coast Trust (JCT) and Lyme Regis Museum, which set up the appeal that raised more than £40,000, described the letter as "a unique piece of local heritage and palaeontological history".
They had hoped the letter, which was estimated to fetch up to £12,000 at London's Sotheby's auction, could be displayed in the museum, which is built on the site where Mary was born in 1799.
However, it actually sold for £100,800 to an anonymous private collector, an auction house spokeswoman said.
Lucy Culkin, chief executive of the JCT, described the public support as "phenomenal".
"We are of course disappointed that the letter will not be in Mary's hometown and that perhaps it will not be as accessible to visitors as we would have liked, but hope the buyer may get in touch to talk to us about how we might work together for the benefit of future aspiring geologists and paleontologists who visit the Jurassic Coast each year," she said.
She said the trust and museum would offer refunds to those who had contributed to the crowdfunding appeal, but added any cash left over "could make a significant and timely difference" to upcoming projects including the purchase of fossils from the Triassic, Jurassic and Cretaceous eras.
Science 'Diminished her importance'
Sotheby's said: "With its mixture of acute observation, deep knowledge, multiple references to female friendship, and canny salesmanship, this letter gives voice to Mary Anning. It is also a real rarity.
"Mary Anning was a working-class woman based in the provinces with no attachment to any prestigious institution and who engaged with natural history on a commercial basis: the scientific establishment had plentiful reasons to diminish her importance.
"It is only in recent decades that her scientific role has begun to be acknowledged."
Science Who was Mary Anning?
Mary Anning was born in the seaside town of Lyme Regis in 1799
Although her parents had 10 children, only Mary and her brother Joseph, lived to adulthood
When she was 15 months old, Mary survived being struck by lightning
She also survived a landslide in 1833 that killed her dog Tray
Mary's father was a cabinet maker and boosted his earnings by looking for fossils and selling them to holidaymakers
After their father's death in 1810, Mary and Joseph carried on fossil hunting to support the family
In 1811, when Mary was 12, they unearthed the skull of an ichthyosaur
Mary discovered the first full plesiosaur skeleton in 1823
She died in 1847 and although she was well-known for her discoveries she was not taken seriously as a scientist in her lifetime because of her gender and poor background.