Science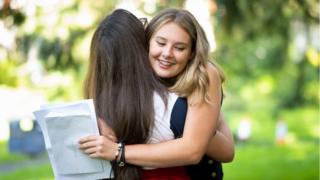 GCSE results are up significantly on last year after a decision to base them on teachers' assessment.
Qualifications Wales estimated almost three-quarters of grades awarded were A* to C, with more than 25% A* and A grades – up from 18.4% last year.
It follows the uproar after last week's A-levels with 42% of moderated grades lower than teacher assessments.
A pupil at Mary Immaculate school in Cardiff said the fallout from A-levels had caused stress for GCSE students.
"But seeing my results today, I'm really happy and proud of myself," said Louis. "The results I got are the ones I wanted."
The exams regulator Qualifications Wales said its "best estimate" was that 74.5% of GCSE grades were awarded at A*-C, compared to 62.8% in 2019.
For GCSE, A-level, AS-levels and the Welsh Baccalaureate, pupils now receive the highest grade, whether that was their teacher's prediction or the standardised grades.
The A-level fallout escalated into a major political row and a U-turn by the Welsh government, amid similar moves elsewhere in the UK.
Before the U-turn, an algorithm was applied to grades to "standardise" them.
Though thousands of students are getting GCSE results, it was announced on Wednesday that BTec results issued by Pearsons exam board would be held back for regrading.
Revised A-level results showed 41.3% of grades were A* and A, compared to 29.9% when results were released last week and 27.0% in 2019.
But the exams watchdog said A-level results were likely to go up slightly when a pledge that pupils will get their AS grade if that was higher is taken into account.
Science What has happened with BTecs?
A BTec student said she found out she would not receive her results on the news and social media.
Ellie Kidd, who studies travel and tourism at Coleg Cambria, near Wrexham, said she was "distraught" not to find out her exam results today.
GCSE-age students in Wales can study for a BTec qualification or its Wales-only equivalent, Entry Pathways.
BTec is a brand owned by Pearson and Entry Pathways is run by the WJEC.
It is not known how many students are receiving grades from Pearson in Wales, although Education Minister Kirsty Williams said it was a minority.
There will be no re-grading of WJEC vocational qualifications and those students will receive their grades today.
Speaking on BBC Radio Wales Breakfast, Ellie said it had caused her "unnecessary stress" and she could not confirm her place to study Level 3 at college next year.
"To have released it the night before seems a little unnecessary and has panicked me and a lot of people," she said.
Education Minister Kirsty Williams told Radio Wales she was "sorry" it had happened to some students, but explained it was a problem with exam board Pearson, rather than the WJEC.
"I'm am very pleased that the WJEC have been able to make their adjustments to their awards and those students are unaffected," she added.
Ms Williams added the WJEC had been able to adjust grades in time for them to be published on Thursday.
Pearson apologised for the delay, but added its "priority is to ensure fair outcomes" for students and it would be working "around the clock to provide revised grades as soon as we can".
Pupils at Ysgol y Creuddyn, in Penrhyn Bay, Conwy county, are among those picking up their results.
Miriam said she was "happy" with her results after readjusting her expectations last week.
"It's been hard – I didn't expect to get good results after everything that happened with A-levels," she explained.
"I wasn't nervous till A-level results day," said Nell Davies, who picked her results up at Prestatyn High School, Denbighshire.
"So I was relieved when I sat we were getting [teacher] assessed grades rather than the algorithm."
Sameer Burney, also at Ysgol y Creuddyn, said it was a relief after such an uncertain period.
"I didn't know what to expect and it was made worse because my predicted grades weren't great, but since then I've worked hard," he explained.
As usual, pupils getting their grades found out results through their school but, due to the pandemic, some received an email rather than visiting the school in person.
For those students in Wales who now have their GCSE grades there is certainty, after the ups and downs since last week's A-levels results day.
As expected, the all-Wales picture shows a big increase in results at GCSE and A-level now they are based on teachers' assessments.
Working out what that will mean in terms of fairness for next year's pupils will be part of an independent review.
Speaking at a school in the Vale of Glamorgan this morning, the education minister said governments across the UK had tried their best to make the right decisions about exams.
But the analysis of what went wrong will have to start as attention turns to the next big challenge – reopening schools fully in a fortnight.
Science What are the teacher assessment grades?
This summer's results were due to be calculated by "standardising" grades submitted by teachers based on their view of how pupils would have done had exams not been cancelled.
We know already the proportion of top grades awarded under teacher assessments is more than last year.
Qualifications Wales set out that 24.5% would have had a grade A* or A, compared to final results of 20% in 2019. And 73.4% would have had an A* to C grade, compared to 64.4% in 2019.
Dr Rhian Barrance, education lecturer at Cardiff University, said teacher assessments in general should be seen as reliable indicator of pupil performance, although she accepted that "in some cases" teachers could be biased.
Science What will it mean for pupils now?
Pupils cannot get a grade which is any lower than their teacher has assessed
But if the grade which has been "standardised" by the exam board is actually higher than the teacher's assessed grade, then pupils will not lose out and will get this higher grade
Before the row, it was announced the appeals process would be widened but the details are now being reviewed in view of the latest announcement, with more information expected soon
Science How has this all happened?
After it emerged a quarter of students received lower Highers results than estimated, the Scottish government stepped in – raising alarm bells in other parts of the UK.
A last ditch move by the Welsh government to provide a safety net that A-level grades would not be lower than AS failed to avoid the fallout once schools and pupils saw the grades.
There was mounting pressure as pupils, teachers and politicians said the process had generated unfair results in Wales.
Although the education minister initially defended the system as fair and "very robust", it was announced on Monday that pupils would be awarded grades assessed by teachers after all.
Nevertheless, the chief executive of the WJEC exam board Ian Morgan has warned that "grade inflation" could have an impact on future groups of students.
Qualifications Wales said next year's exams were being looked at, warning that there was "a problem, potentially".
Ms Williams meanwhile has promised an independent review to look at what went wrong.