Science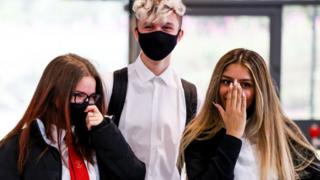 Two teaching unions have called for face coverings to be made compulsory in schools in Wales.
NASUWT and Ucac joined criticism of a Welsh Government ruling that schools and colleagues should decide if face coverings are needed.
Unions said the decision risks confusion and comes too close to the start of the autumn term next week.
But Education Minister Kirsty Williams said headteachers were the right people to decide.
Plaid Cymru leader Adam Price urged ministers to withdraw the guidance and issue "clear directions".
Three councils have now said they will recommend the use of masks – Cardiff, Carmarthenshire and Isle of Anglesey.
Face coverings are recommended for children aged 11 and over in communal areas indoors where social distancing is difficult, and on school buses, when schools return next week.
But the Welsh Government has declined to make their use mandatory, instead instructing individual schools and colleges to make risk assessments.
In Scotland and Northern Ireland, secondary school pupils will have to wear masks in corridors and communal areas, as they will in parts of England under local lockdown measures.
The guidance changed after the World Health Organization (WHO) said those over 12 should wear masks in the same settings as adults.
Science What have unions said?
On Wednesday headteachers union NAHT Cymru said it was "unacceptable" that headteachers had to make the decision, as they were "not medical experts".
There was support for the move from the NEU, but Jonathan Lewis of Unison said: "Welsh Government should have given clear guidance on this and followed the chief medical officer's recommendation.
"Leaving it to local authorities and schools to decide is likely to create a great deal of inconsistency throughout Wales."
The announcement "runs the risk of causing uncertainty and confusion," claimed NASUWT's Patrick Roach.
"If wearing face masks or face coverings in schools is now deemed appropriate in order to safeguard health and safety, then it is difficult to understand why this practice has not been made compulsory."
Ucac said the decision came "far too late".
"It is extremely disappointing that this announcement comes only two days before the start of term, as our headteachers will have to revisit their risk assessments and all school safety procedures to check the need for the use of face coverings and that they are kept or disposed of correctly," it said.
"It is also disappointing that the Welsh Government has not made the wearing of face coverings compulsory, thereby providing our school leadership teams with a further responsibility."
Science What have councils said so far?
Secondary school children in Carmarthenshire will be required to wear face coverings on school transport and in school indoor communal areas.
Cardiff Council said it is "strongly recommending" that all school staff and mainstream secondary school pupils wear face coverings in corridors, communal areas and toilets and all situations where social distancing cannot be observed.
The council said it will give school staff and secondary school pupil two re-useable masks at the start of term, and will require their use on school transport.
Anglesey council said it also recommended the use of masks where "social distancing cannot be maintained" in secondary schools, and by children aged 11 and up on school transport.
Science 'My degree is in history, not biomedical science'
Justin O'Sullivan, head teacher at Cardinal Newman Catholic School in Pontypridd, Rhondda Cynon Taff, said he was unhappy with the timing of the decision.
"What we've got now is a situation where heads and local authorities are running around trying to interpret what recommended means, [and make] decisions about where communal areas are safe, and when they're not safe.
"We're not scientists, we're educators. My degree is in history, it is not in biomedical science or anything like that.
"It says in the guidance that we should be consulting with parents, unions, stakeholders, governors, and I've got pupils back in next Wednesday.
"How I'm supposed to do a risk assessment, a comprehensive plan, consult on it, get it out in that time, amazes me."
Speaking as he was in the process of making a risk assessment, he said he was telling parents it was "almost certain" that pupils would be asked to wear masks for some part of the school day.
Science Headteachers 'experts in wellbeing of children'
Ms Williams defended the decision, saying masks were not currently necessary "as community transmission rates remained low".
"Things can change very quickly, we may indeed have to move to a situation where we have to mandate," she said.
But she said having pupils wearing face masks in canteens, corridors and communal areas was problematic, with storage issues, and pupils taking them on and off, with concerns that they should not "create a biohazard around schools".
"There are considerations about bullying of children," she said.
"Some children a face covering will not be suitable for, perhaps for personal medical reasons that maybe the rest of the school or their school mates are not aware of at the time."
Ms Williams said schools should get pupils to wear them if they could not maintain social-distancing in corridors and stop pupils "bumping into each other".
But the minister argued headteachers were the right people to make the decision, as they were "experts in the health and wellbeing and education of our children" and the government guidance was "very clear".
"Welsh education is incredibly diverse, each and every one of our secondary schools finds themselves in a very different position, and it is impossible at this stage, with transmission rates low to have a blanket decision," she said.
"I believe we are much more likely to have a greater compliance and to use face coverings successfully if we allow those people on the ground to make the decisions."
During the interview on BBC Radio Wales, Ms Williams said face coverings "can be made at home, out of material or purchased".
NAHT Cymru director Laura Doel said it "beggars belief to hear ministers talk about making their own masks" when the Welsh Government's website said many home made masks "offer little or no protection".
"If we are receiving mixed messages on this from government then how are headteachers supposed to make informed decisions?"
The WHO recommends three-ply coverings.
Ensuring the correct masks are worn would mean they need to be supplied, Mrs Doel added, calling for the government to step in.
"The cost implications alone of such a measure will be significant, assuming they are going to be available."
Science 'Children don't need added worry'
Mother-of-three Ceri Reed said that she feared that if cases rose in certain communities schools "would be hung out to dry".
"It's a national crisis, it requires a national approach," she said.
Ms Reed, from Parents' Voices in Wales, said she wanted to see a blanket approach but with an exception for individual pupils who may have additional needs or mental health issues, who may find it hard.
"Many children will have had some trauma and bereavement during the lockdown and they do not need this added worry of the infection transmission sitting next to a peer in class," she said.
Science What has Plaid Cymru said?
Plaid Cymru's leader is calling on the first minister to withdraw guidance issued to schools on facing coverings and "re-issue clear directions".
In a letter to Mark Drakeford, Mr Price said minsters' "hands off approach" to the matter "will mean that individual schools and individual local authorities will be left on their own".
"This seems to me to be incompatible with the partnership approach – working together to Keep Wales Safe – that has led to some of the best results in the response to Covid-19 in Wales," he wrote.