Science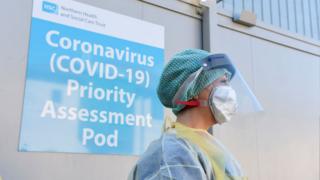 Hundreds of healthcare staff have signed a letter to politicians in NI, expressing concern about the government's approach to coronavirus.
The letter says the NHS in Northern Ireland is "in the worst shape of any part of the NHS going into this".
It calls for immediate social distancing, as in the Republic of Ireland, to stop "large scale loss of life".
It comes as seven new cases were confirmed in NI on Monday.
Health Minister Robin Swann said the number of confirmed cases of coronavirus now stands at 52, with 1,171 tests carried out.
Medical professors, doctors and health support workers were among those who signed the warning letter.
It said they know it is impossible to prevent Covid-19 entirely, but that strict measures implemented "without delay" could combat "avoidable loss of life".
Earlier on Monday, Mr Swann issued a lengthy statement and said a social distancing strategy would need to take place over months, rather than weeks and that all options are on the table.
He added the coronavirus outbreak may be "the greatest societal challenge since the Second World War".
His remarks come amid calls from some politicians for further steps – including closing NI's schools.
But he said closing schools at this stage could be "counterproductive".
The Irish government has called on pubs to close until at least 29 March as part of containment measures, while all schools and colleges in the Republic of Ireland are shut.
The education minister has said schools will remain open for now, but would have to close at some point in the future.
Deputy First Minister Michelle O'Neill has repeatedly called for schools in Northern Ireland to close immediately.
In his written statement, Mr Swann said people "want to know that concrete action is being taken".
"Let me make clear that all options are on the table when it comes to protecting our citizens," he said.
"That includes all the social distancing measures that will work but which must also be sustained for long enough to be effective."
He said action would be "guided by evidence of what works" and could when necessary "including school closures".
"If it was just a question of shutting everything down for a limited period, then we would have already done it," he said.
"Closing schools by itself will not be effective, if we can't sustain it. It might even be counterproductive at this stage.
"What is needed is a wider and phased social distancing strategy that holds together and works over months not weeks."
He added that social distancing for older people would be "an important phase" and was about "shielding rather than total isolation".
Science Ventilator production
Mr Swann told the assembly there were currently 88 adult ICU beds in Northern Ireland but there are plans to expand this to 126.
There are currently 139 ventilators and 40 more have been ordered.
Ventilators are vital in the treatment of patients whose lungs have been attacked by the infection.
Dr Chris Hagan, interim medical director at the Belfast Trust, who is overseeing the Mater Hospital's response to the outbreak, told BBC Radio Ulster's Good Morning Ulster programme "what scares us is the potential for the numbers of patients that could come".
"We have been preparing for the worst but I am confident we are prepared for that and confident our staff will rise to that challenge," he said.
"All of our patients so far have gone home well. We haven't had to ventilate any patients with Covid-19 yet, but I am sure that will come."
Prime Minister Boris Johnson is due to speak to engineering firms on Monday about whether they can shift production lines to building NHS ventilators.