Science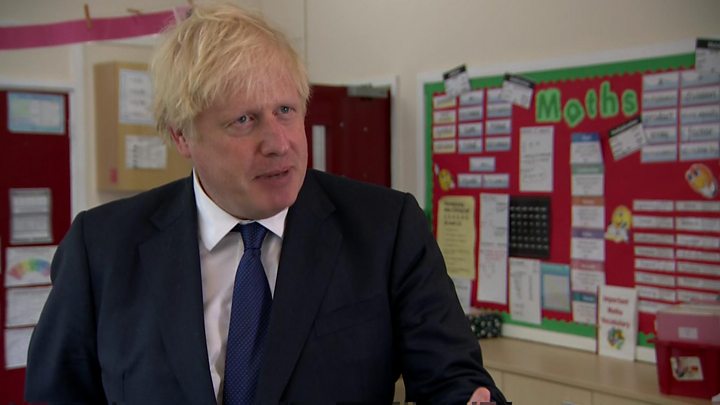 It is understandable that there is "anxiety" over exam grades, the prime minister has said, as pupils prepare to receive estimated results this week for tests cancelled during lockdown.
Visiting a school in London, Boris Johnson said he was also "very keen that exams should go ahead as normal".
A-level results in England, Wales and Northern Ireland are due on Thursday.
Scotland's First Minister Nicola Sturgeon has apologised for the handling of its exam results.
She acknowledged "we did not get it right" after results estimated by teachers for cancelled exams were downgraded.
The Scottish Qualifications Authority lowered grades using an algorithm – with pass rates for pupils in deprived areas downgraded further than those in more affluent parts.
Ms Sturgeon said her priority was to resolve the concerns about how some results had been downgraded, following protests by pupils.
With pupils in England, Wales and Northern Ireland awaiting A-level results this week, Mr Johnson said on a visit to a school in east London that he wanted their hard work "properly reflected".
"Clearly, because of what has happened this year, there is some anxiety about what grades pupils are going to get, and everybody understands the system – that the teachers are setting the grades, then there's a standardisation system," he said.
"We will do our best to ensure that the hard work of pupils is properly reflected."
Ofqual, England's exam regulator, said that following the row in Scotland it wanted to reassure students that grades have been calculated in the "fairest possible" way.
It said it would publish data on grades by socio-economic status on results day, adding that early analysis showed poorer students and ethnic minorities "have not been disadvantaged by this year's awarding process".
The head of the university admissions service said this summer was likely to be the "busiest" ever period for the clearing system, which matches students with places after results are published – including those who have missed the grades for their initial offer.
Clare Marchant, chief executive of Ucas, said she believed up to 80,000 students could find a place through clearing, beating last year's record of 73,325.
Some students were likely to abandon plans for a gap year as the pandemic restricted travel, and could apply through clearing instead, she suggested. The fall in overseas students meant it was a "good year" for UK applicants seeking a place, Ms Marchant added.
A recent analysis by the PA news agency showed that the select Russell Group universities still had 4,500 undergraduate courses with vacant places.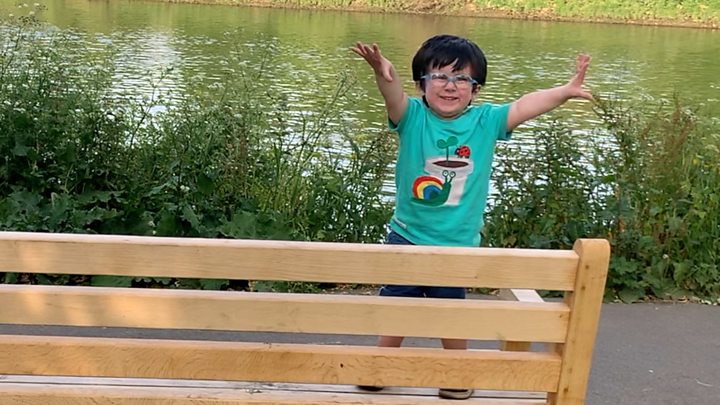 One 18-year-old said she felt students in her school year had been treated like "guinea pigs".
"I'm expecting the worst scenario possible at this point," said Cheyenne Williams from Barnhill Community High School in north-west London. "I have doubts that grades will be allocated on a fair basis."
Meanwhile, some parents criticised suggestions that students could sit exams in the autumn if they were unhappy with their estimated grade.
Helen Milne, from Cheltenham in Gloucestershire, whose son will collect his results this week, said: "How on earth are children meant to take resits in October when they haven't been in school for six months and there are no teachers to teach them?"
But others defended the approach. "It's not great but I can't think of a better system," said Helen Jones from Abingdon in Oxfordshire.
"Nobody wanted to have a pandemic and you can't put the lives of a whole cohort on hold for a year."
Elsewhere, Education Secretary Gavin Williamson said there was little evidence of coronavirus being transmitted in schools and the plan to fully reopen England's schools in September was guided by the best science.
It is usually pupils who are nervous about exam results and going back to school.
But this year it's ministers who are feeling the heat.
And those in England will be looking with extreme nervousness at the car crash over Scotland's replacement exam grades – because the problems that outraged Scottish students are going to reappear in England's A-level results on Thursday.
"Everybody understands the system that the teachers are setting the grades, then there's a standardisation system," Boris Johnson said on a school visit.
But in reality teachers' predicted grades have mostly been sidelined – and instead the two key factors for grades will be how pupils are ranked and schools' previous results.
As the row in Scotland has shown, pegging estimated grades to how schools usually perform will be seen as locking in disadvantage.
It means bright pupils in low-achieving schools can lose out. And many more will be confused at the gap between their teachers' predictions and their results.
But so far there are no signs of the emergency brakes from ministers in England. Instead they are relying on schools being able to appeal against harsh results and that disappointed pupils can take back-up exams in the autumn.
As if the exam pressure wasn't enough, there are high political stakes about the fast-approaching new school year and the promise that all pupils will be going back full time.
Government advisers have warned the nation may have reached the limit of what can be reopened in society safely.
But asked whether parents should brace for local closures to combat flare-ups of the virus, Mr Johnson said education was a priority.
"The last thing we want to do is close schools. Education is a priority for the country – that is simple social justice," he said.
Guidance on reopening schools has been published for England. There are also separate plans for Wales, Northern Ireland and Scotland, where schools are scheduled to return from Tuesday.
Schools across the UK closed on 20 March, except to children of key workers or vulnerable children. On 1 June, they began a limited reopening for early years pupils, Reception, Year 1 and Year 6.
In another development, gyms, swimming pools, leisure centres and children's play centres are being allowed to reopen in Wales on Monday, in a further easing of the lockdown restrictions.