Science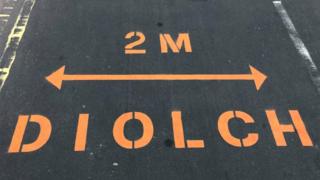 The original recommendation to stay 2m apart from others remains the "safe way to behave", Wales' first minister has said.
Mark Drakeford said the original social distancing advice is staying in place in Wales.
The UK government has eased it in England, allowing parts of the hospitality sector including pubs to reopen from 4 July.
Welsh Conservatives have called for a "similar lifeline" for firms in Wales.
Earlier Mr Drakeford's colleague, Health Minister Vaughan Gething, said he could not see how the measures being eased in England were consistent with scientific advice.
Pubs, restaurants, cinemas and hairdressers will be able to reopen in England from 4 July.
Concerns have been raised of the risk of a second wave. The UK government said it would continue to be guided by the latest scientific advice.
Dates in Wales have not been given for the hospitality sector, including pubs and restaurants, to reopen, although the Welsh Government has promised "detailed discussions" on a phased reopening.
In England a "one metre plus" rule has been introduced where two metres is not possible, taking steps to reduce transmission
But in Wales the 2m advice is enshrined in law and workplaces are expected to follow it as much as they can, risking fines otherwise.
At a virtual session of the Senedd Paul Davies, leader of the Welsh Conservative group, said it was "right" to reassess the regulations as infection rates fall.
He put it to Mr Drakeford that Labour leader Sir Keir Starmer had welcomed the prime minister's statement on Tuesday "overall" and believed "the UK government is trying to do the right thing".
In response, the first minister said: "In Wales, the message remains. Stay two metres apart. That is the safe way to behave."
He said the science of the UK government's scientific advisory group SAGE said "if you halve the distance the risk increases somewhere between two and five times greater than if you stay within a two metre distance".
But Mr Drakeford did not totally rule out easing the advice.
"If it is possible, always using public health as our primary test, to reduce the two metre rule by exception then we will see what we are able to do in Wales, but we will do it by looking at the evidence first."
Evidence for the England decision had been promised by the Cabinet Office minister Michael Gove, the first minister said.
"That evidence had not arrived by the end of yesterday but we certainly hope to see it today."
Mr Drakeford faced calls from Paul Davies to provide a "strategy" for Welsh tourism for how it will support it in the short and long term, and for "immediate action" to help the hospitality sector.
He said last week's statement on lockdown in Wales, which said self-contained tourist accommodation could take bookings from 13 July, "resulted in more questions than answers".
But Mr Drakeford said "none of us know how this disease will progress as we move through the summer and into autumn".
"We do our best to provide forward guidance to sectors in Wales, but to ask us to provide clarity where none is possible, would be to provide a false prospectus to those industries."
Coronavirus travel restrictions are among the measures still in place in Wales, with people expected to stay local at least until 6 July.
Vaughan Gething told BBC Radio Wales Breakfast with Claire Summers the lockdown changes in England were "a lot of measures to undertake on one day".
"I don't think you'd see that same appetite for risk here," he added.
Science 'Majority' back caution
He said Welsh Government officials are in contact with their counterparts in the UK government "trying to get sight of the evidence".
"And as soon as [we see it] we'll consider it, and it will inform choices that we make here in Wales."
Mr Gething claimed that the "overwhelming majority of people in Wales support the approach" taken by the Welsh Government – which has eased lockdown more cautiously than in England.
"Some people are thirsty for a much more rapid unlocking of the country but, actually, that isn't the overwhelming view of people," he said.
Darren Millar, Welsh Conservative Covid recovery spokesman, said that the UK government's measures are "safe and sensible" and will "come as a huge relief to those parts of society and the economy which would otherwise be unable to function and it is great to see them attracting cross-party support".
"We encourage the Welsh Government to urgently review the restrictions here as soon as possible in order that a similar lifeline can be thrown to people and businesses across Wales."