Science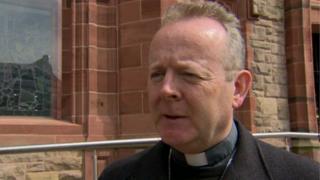 The leader of the Catholic Church in Ireland has called on Stormont's education minister to consider closing all schools because of coronavirus.
Archbishop Eamon Martin made the call in a letter to DUP Education Minister Peter Weir, which said: "We need to fight this virus together."
Earlier Mr Weir said shutting schools now may be "counterproductive," adding that he would follow scientific advice.
Northern Ireland's leaders are also split on when schools should close.
On Friday morning, Deputy First Minister Michelle O'Neill called for the immediate closure of schools and colleges.
This comes a day after she said Northern Ireland was not at the stage where it needed to shut them.
Later, First Minister Arlene Foster said the policy to keep schools open would stay in place.
Schools, colleges and other public facilities in the Republic of Ireland have shut due to coronavirus.
Northern Ireland has not taken the same steps.
Nine new cases of coronavirus were confirmed in Northern Ireland on Friday, bringing total cases to 29.
It also emerged that three cases were the result of community transmission – the first cases in which a patient had no known contact with a confirmed case and had not travelled from a country badly affected by the pandemic.
In a letter addressed to Mr Weir and the Council for Catholic Maintained Schools (CCMS), Archbishop Martin said the St Patrick's weekend provided a "clear window" for parents to make childminding arrangements ahead of closures and for schools to make contingency plans.
"I feel it is important to give very strong consideration to the closure of all schools in the very near future and on a specific defined date," he wrote.
Science 'Led by science'
Speaking at Stormont on Friday morning, Mrs O'Neill said Northern Ireland should "err on the side of caution" and "now is the time for action".
"Now is the time to ensure that all schools are closed, that universities and colleges are closed and that needs to be done immediately," she said.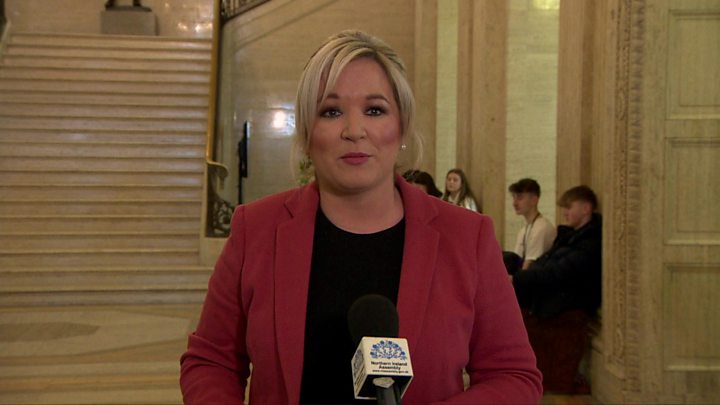 However, the first minister said that, while she understood Mrs O'Neill's concerns that there's a different policy in the Republic, she had "to be led by science".
"I can't answer as to why Michelle has decided she needs to go in this direction."
Speaking after a meeting with UK Health Minister Matt Hancock and the Chief Medical Officer Michael McBride, Northern Ireland Health Minister Robin Swann said he would "continue to be led by the science".
"At this moment in time, I have no evidence to justify school closures and indeed to do so at this stage may even be counterproductive," he said.
Political editor Mark Devenport said Mrs O'Neill's call for school closures was an "obvious and incredible u-turn" following an announcement in Northern Ireland on Thursday that schools would not yet close.
"They see people are voting with their feet in their own communities and they [Sinn Féin] are merely reflecting that," he said.
He said such a move would have to be approved by the NI executive, which is meeting again on Monday.
In other developments:
Northern Ireland ministers would be meeting with tánaiste (Irish deputy PM) Simon Coveney and Irish Health Minister Simon Harris on Saturday.
Science 'We will have no choice'
Speaking earlier on Friday, Mrs Foster said: "We are taking the measures as advised by evidence, advised by science, and it will come a point where we will have to close schools.
"There will come a point where we will have to say people should social distance themselves from other people, they should stay in their own homes.
"But the timing of all of these things is where the science comes in and the modelling which has been done and which continues to be done by those scientists will inform the decisions that we have to take both at UK level and indeed at Northern Ireland level."
Mrs Foster said: "Medical officers are telling us that we are probably about 14 weeks out from the peak of this virus.
"It is our elderly and our vulnerable who are most at risk and therefore we must protect them."
Sinn Féin Leader Mary Lou McDonald said the UK approach to coronavirus was "not only wrong, it is dangerous".
Speaking on BBC Radio Ulster's Talkback programme, Ms McDonald added two sets of advice were confusing.
"An all-Ireland strategy is essential and imperative for public health," she said.
Inside Business live on BBC Radio Ulster will have the latest on childcare, working from home and the economic impact of the coronavirus – Saturday at 12:30.