Science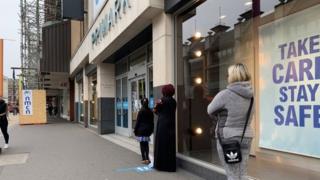 Members of Leicester's BAME community say they are alarmed by a "surge" of coronavirus cases in "the most deprived area of the city".
About 25% of the city's 2,494 confirmed Covid-19 cases were reported in the past two weeks, many in east Leicester.
Analysis has found South Asian people are the most likely to die from Covid-19 after being admitted to hospital.
One man who was hospitalised for two months with Covid-19 wants shops closed to curb the spread of the virus.
Kully Singh Sidki said: "It is a worry that the number of cases is increasing in the most socially deprived areas, where there's a high number of black and Asian people."
About 28% of Leicester's population is of Indian heritage, and a further 21% are from black or Asian backgrounds.
Mr Sidki, who has had to learn to walk again after two months in intensive care, said "more education targeted at the black and Asian community is needed".
He added: "I don't think we should ease lockdown that quickly.
"I think they should take measures to target the east of Leicester, to try to curb the spread of the virus."
Health Secretary Matt Hancock announced an "outbreak" in the city at Thursday's Downing Street briefing.
However, Leicester City Council head of public health Ivan Browne later said it was "not an outbreak".
"There has been a surge within the city, and therefore we're looking into what that might be and where that might be," he said.
The council confirmed 658 people had been officially diagnosed with coronavirus in the past fortnight.
Speaking on BBC Radio Leicester, the city's mayor Sir Peter Soulsby said it was "dramatising" to call it an outbreak and was more a "spike" in infections.
He said he had "pressed" Mr Hancock for more information about the cases including their postcodes, where they work and their ethnicity, to get a clearer picture.
A new testing centre could be set up in the coming days at Spinney Hill Park, he added.
Leicester East MP Claudia Webbe said she was "alarmed at the rise in the figures".
She said the constituency had "42% of children living in poverty, and a significant population of African, Asian, and minority ethnic people".
The Labour politician added: "It opens up a lot of questions in terms of the government's approach, whether the approach is the right course."
Pamela Campbell-Morris, an African-Caribbean community champion in Leicester, said: "It was a shock to hear."
The 62-year-old added: "But when I sat back and thought about it, it all tallies with the science.
"It is the most diverse community and lots of people are living in poor housing. It tallies, but I still didn't want to hear that."
She said not enough awareness and prevention was being done with the African-Caribbean community.
Follow BBC East Midlands on Facebook, Twitter, or Instagram. Send your story ideas to eastmidsnews@bbc.co.uk.