In_pictures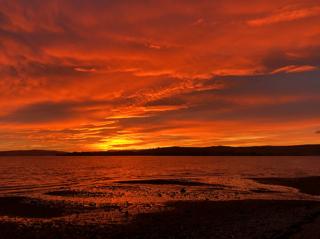 Scotland was treated to a vivid display of colours at sunset on Sunday evening.
The sky turned all shades of red, orange and purple because of an unusual combination of weather conditions.
Geoff Monk, from the Mountain Weather Information Service, said a front was passing across Scotland at dusk on Sunday.
"Normally when a front comes in it rains and there's cloud at all sorts of levels," he told BBC Radio Scotland's Good Morning Scotland programme.
However, Sunday evening was different.
"We had exceedingly clear air below the cloud. The only clouds were thin layers up at about 12-14,000 feet [up to about 4,300m]," Mr Monk said.
"Because no other cloud was coming in below it or even above it the sun – when it was virtually horizontal at dawn and dusk near the horizon – reflected off the bottom of the cloud giving those vivid colours."
There were some spectacular views over Arran as the sun dropped down below the horizon. This shot was taken by Lee Middleton from Dunlop in East Ayrshire.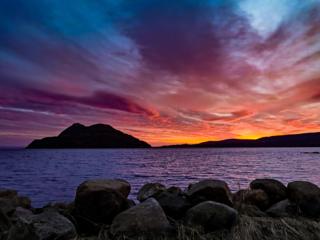 This photograph of Holy Isle was taken from the Isle of Arran by Charlotte Mann.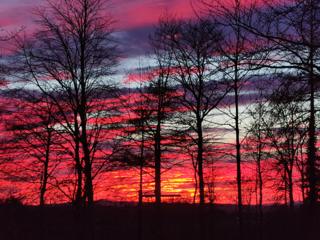 The east of Scotland didn't miss out on the vivid colours, as Connor Macfayden proved with this shot of New Winton woods in East Lothian.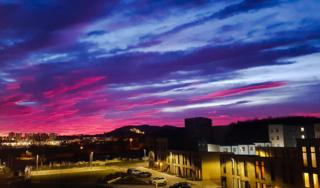 The skies above Edinburgh were looking pink, as captured here by Susan Lonie.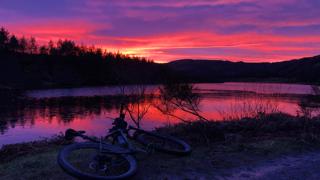 An evening bike ride up Duke's Pass in Aberfoyle was worth the effort for this view over Lochan Reoidhte.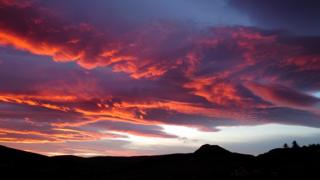 The BBC's Weather Watchers were busy snapping away on Sunday evening. This picture was taken in Rogart, Sutherland, by Cogies Auroras.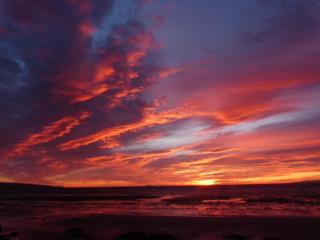 Another Weather Watcher, Meeklecrag39, posted this picture take from Troon. Ailsa Craig is just visible on the horizon.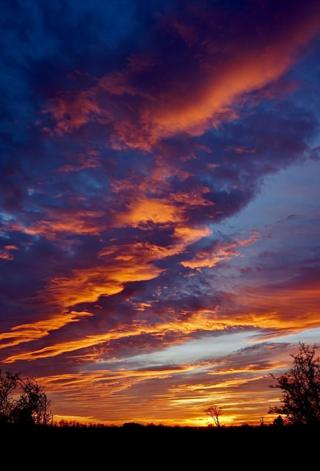 DodgerDog captured this incredible skyscape at Symington, just east of Troon.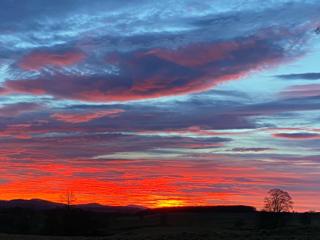 The thin high clouds are well picked out in Weather Watcher Macbie Sam's shot taken in West Linton in the Scottish Borders.
Forecaster Mr Monks said a mix of "complex physics" created the colours we sometimes see at sunrise and sunset. For instance, the type of ice or moisture particles in the air has an impact on exactly how much vibrant colour is refracted back.
"Sometimes if you have lots of dust in the air high up, which could be pollution or something from an old volcano, that in itself gives good sunsets. But it was purely the cloud yesterday," he added.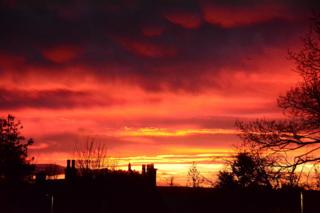 The Dubs took this picture of the sky above Forres, Moray.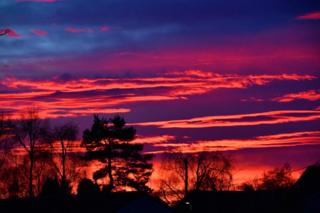 The residents of Scone, near Perth, were treated to a lavish mix of reds and purples – captured in this image by Dmac.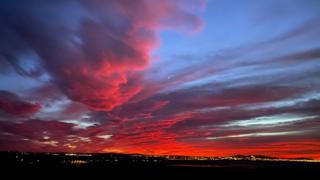 Fiona Monk snapped this view looking to Edinburgh from Gullane Hill.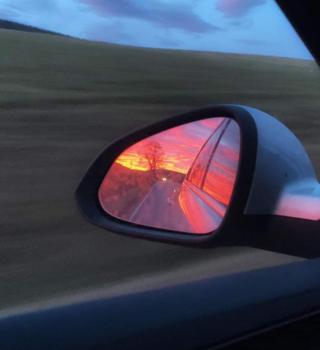 The fiery sunset was perfectly framed in the wing mirror of Colin Mccartney's car. His daughter took the picture as they were driving to Wiston in south Lanarkshire.
Email your sunset pictures to scotlandpictures@bbc.co.uk.
Please ensure you adhere to the BBC's rules regarding photographs, which can be found here.
If you submit a photograph, you do so in accordance with the BBC's terms and conditions.