In_pictures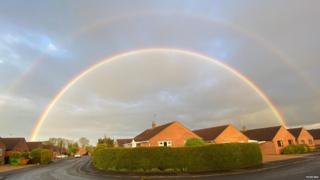 A double rainbow appeared across the sky as people applauded NHS and key workers on their doorsteps.
BBC Weather Watchers across England captured the phenomenon which appeared in several parts of the country on Thursday evening.
It happened as residents took part in "Clap for Carers" – a weekly tribute to those working on the front line during the coronavirus pandemic.
The rainbow has become a symbol of thanks to key workers, with many displaying homemade pictures of them in their windows.
Some areas of the country were treated to the double arches, while others spotted vivid streaks of colour. Here is a selection.