In_pictures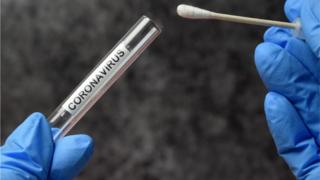 The level of coronavirus among the community in England remains "unchanged" for the week to 25 August, the Office for National Statistics suggests.
Its latest survey of people in households estimates there were around 2,000 new cases of coronavirus per day.
This suggests that, despite outbreaks in some local areas, overall case numbers remain stable.
The ONS figures give one of the most accurate pictures of infections levels.
They are based on more than 151,000 swab tests collected from people at home, whether they have symptoms or not.
But there is always a margin for error in the figures because over the past six weeks of the study very few people have tested positive – just 71 from 68 households.
The figures also do not cover what is going on in hospitals or care homes, where infection rates are likely to be different.
However, they continue to paint a picture of a stable level of infections among private households in England.
The ONS estimates that 27,100 people in the community had the virus during that week from 19 to 25 August.
This is similar to the estimate for the previous week and several weeks before that.
In Wales, during the week to 25 August, 1,400 people are estimated to have had Covid-19 – also unchanged from previous weeks.
A different kind of test – an antibody test, using blood samples – which looks for evidence of people having previously had the infection, has been carried out on 7,000 people as part of the ONS study.
Results suggest that around 6% of the population – or one in 17 people – have been infected with the coronavirus in the past.
This equates to 2.7 million people in England.
In_pictures 'Continue to be vigilant'
The R number for the UK is between 0.9 and 1.1, say the government's scientific advisors, which means the number of people with the virus is staying at a constant level.
The reproduction number or R is the average number of people that one infected person passes the virus onto.
An R number of 1 means that on average every person who is infected will infect one other person, meaning the total number of infections is stable.
This estimate of R is a guide to the general trend rather than a description of what is happening today.
The Health Secretary, Matt Hancock, said the ONS data showed that the government's approach, using contact tracing and local restrictions, was working and was helping the country "to safely return to normal".
"This reassuring news is testament to the hard work of everybody in following social distancing guidelines to protect themselves, their loved ones and the NHS."
Mr Hancock added: "I would urge everybody to continue to be vigilant – wash your hands, wear a face covering and keep social distance from those outside your household – so we can keep the virus at bay."