Environment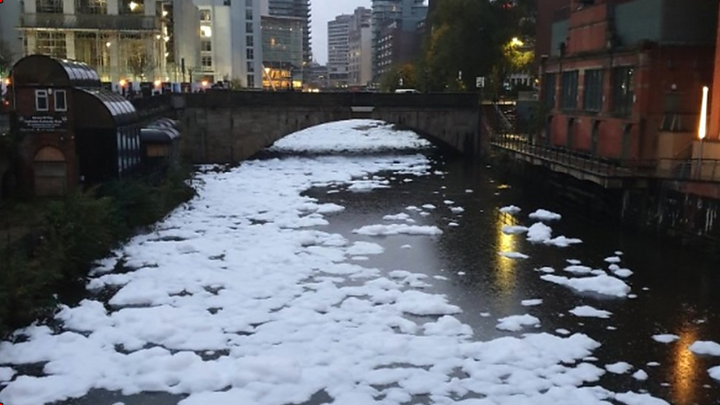 A city centre river has been covered in a mystery white foam overnight.
Part of the River Roch and a large stretch of the River Irwell between Salford and Manchester is blanketed in the unknown substance.
Residents suggested it looked like "leaking bubble bath" and expressed concerns for wildlife on the river.
Environment Agency officers are on site investigating and Salford City Council said it would "advise residents accordingly".
"At certain times of year we get a lot of calls about foam in rivers and still waters," an Environment Agency spokesman said.
Mike Duddy, from Mersey Rivers Trust in Salford, advised the public not to enter the waterways after the "huge icebergs of foam" were discovered.
While the source of the white foam has yet to be confirmed, he told BBC Radio Manchester it is believed someone has poured a pollutant down a surface water drain.
"People shouldn't go in the river until it is considered safe to do so," he added.
"Pollutants can be acid, alkaline or it might be a simple detergent which is what we think might have happened today. "
While Mr Duddy hasn't witnessed any evidence of animals, fish and insects in distress, he said it demonstrates how "a simple act of putting the wrong thing down a surface water drain can have this terrible effect".
Environment You may also be interested in: