Environment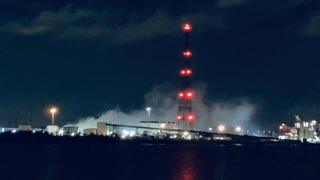 An "acid cloud" leak that caused school closures and an exclusion zone to be put in place poses no perceived risk to health, investigators have found.
The incident at International Chemicals Group Limited, West Thurrock, Essex, saw clouds of hydrochloric acid form in the sky on Monday.
Air quality in the area was monitored by health and safety teams, with readings "well within safe levels".
The incident was caused by a pipework failure, the company said.
Managing director Edwin Strang said the leak was from a chemical storage facility at its Stoneness Road site.
A failure with pipework resulted in three tanks discharging hydrochloric acid into a so-called "bunded area", created to protect the environment, he said.
Essex Fire Service said 15 firefighters had to be treated as "a precautionary measure" and were later released from hospital.
A 100-metre exclusion zone was set up after the leak, with residents advised to keep windows and doors closed.
Schools that were shut in nearby West Thurrock, Purfleet and Chafford Hundred will reopen as normal on Wednesday, Thurrock Council confirmed.
Roads around the site will also reopen.
An air quality team from the Environment Agency has been working with Public Health England (PHE) to "assess the air quality impact of the chemical spill on the general public."
A PHE spokesman said: "Public Health England is content that the air quality monitoring today by the Environment Agency shows that the readings are normal, which means that the risk to public health is low."
An investigation by the Health and Safety Executive is under way.
The fire service is expected to continue to monitor the area in the coming days.