Environment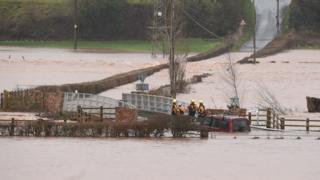 A woman who went missing in floods after her car got stuck in water is believed to have died, police said.
The woman disappeared on Sunday near a bridge which crosses the River Teme, near Tenbury Wells, in Worcestershire.
The search resumed earlier but is now a "recovery rather than rescue mission", West Mercia Police said.
Widespread evacuations are taking place across Worcestershire and Herefordshire as river levels continue to rise in the wake of Storm Dennis.
Hundreds of flood warnings remain in place, including several severe warnings meaning a danger to life.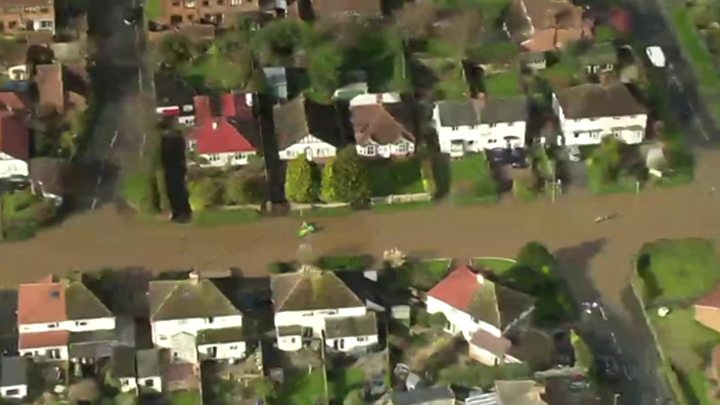 At least 30 homes have been flooded in Ludlow, Shropshire, with water up to the level of kitchen worktops in one home, Ludlow North councillor Andy Boddington said.
He said the River Teme peaked just under the highest level recorded in 2007.
The River Wye in Hereford reached its highest recorded level overnight – 6.3m (20.7ft).
Water is also touching the walkway of the Victoria Bridge in the city, as levels on the river continue to rise.
Police said the search for the missing woman, who has not been identified, included the use of the force helicopter.
"Sadly, however, due to the circumstances of the length of time in the water and other conditions we believe that this will now be a recovery rather than rescue operation," they added.
Officers said her family had been informed.
West Midlands Ambulance Service said it was called to reports of two people being swept into the water near Eastham Bridge.
A man who was rescued close to where the woman disappeared was airlifted to hospital and remains in a stable condition.
West Mercia Police Assistant Chief Constable Geoff Wessell said the man and woman "stopped and got out of the car because of the water and then got caught up into more of a stream of water that took them away".
"It absolutely illustrates – do not drive into water, do not go into water, it's far too dangerous," he said.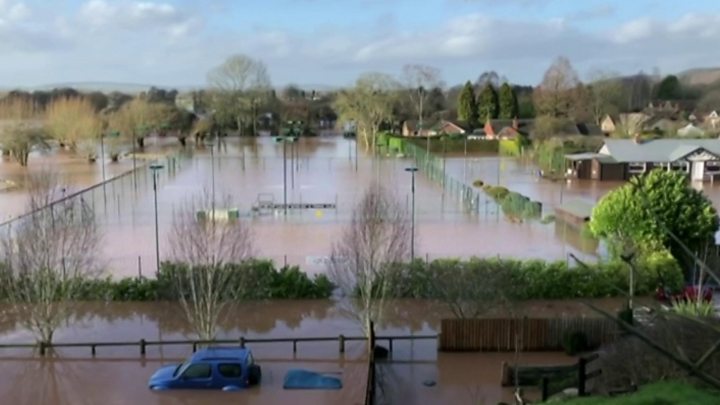 About 130 homes in Tenbury were evacuated overnight, with roads in the area described as "virtually all impassable" by Worcestershire County Council.
The authority said it was working with the Environment Agency, police, fire service and paramedics to evacuate more residents.
"Although in some areas river levels are dropping, they are set to rise again over the next few hours, peaking during the evening," a council spokesman said.
About 420 properties have been flooded across the UK with about 270 of those in the West Midlands, the Environment Agency said.
Worcestershire has borne the brunt of the flooding with about 200 homes affected, according to figures from the agency's John Curtin.
Herefordshire Police tweeted that officers were carrying out emergency evacuations to a leisure centre.
Families rescued from flooded Hereford properties could be seen disembarking from evacuation dinghies with their pets and belongings.
About five boats are at work ferrying people from their homes around Hinton Avenue and Hinton Crescent.
Natalie Gibson said she had to ride her horse out of a flooded field to ensure he was safe.
"He was stuck up to his knees. He wouldn't move so I had to jump on him. I had people at the top of the field calling him so we rode through the floods," she said.
She said she had to wade over her submerged settee to answer banging on the door from her neighbours before abandoning her home.
Dave Throup, from the Environment Agency, described the scene in Hereford as "just unbelievable" with river levels now the same as the floods in 2007.
West Mercia Police said residents in Upton-upon-Severn and Uckinghall, Worcestershire, were being advised to evacuate their homes after severe flood warnings have been declared due rising river levels.
The government's emergency funding Bellwin scheme, to help people affected by the storm, has been extended to include "qualifying areas" of Herefordshire and Worcestershire as well as Shropshire.
Telford & Wrekin Council said it would be distributing sandbags "for anyone to pick up from the Ironbridge park-and-ride site".
The River Severn is expected to peak in Ironbridge on Tuesday, the authority said, adding that flood barriers were already in place.
Floodwater broke the banks of the river in Shrewsbury and spilled on to Smithfield Road, one of the busiest in the town, and Chester Street, at about 14:30 GMT.
Elsewhere, thousands of sandbags have been distributed in York where the River Ouse continues to rise, although the Environment Agency has said the situation in the city was an "improving one".
The Ouse had been expected to peak at 4.8m (15.7ft) above normal levels later on Monday.
That level is higher than during Storm Ciara, but significantly lower than the record high of 5.4m (17.7ft) in November 2000.
Craig McGarvey, from the Environment Agency, said the peak was well below the city's flood defences.
He added: "It's a much improving situation and we haven't had as much rain as we were concerned about before the weekend."
Lowdham, in Nottinghamshire, was one of the areas hardest hit in the East Midlands, with about 60 homes flooded.
Newark and Sherwood District Council said teams were out with three mechanical road sweepers clearing debris and silt.
Residents of park homes on the River Stour, near Christchurch, Dorset, are also being told to leave as water levels continue to rise.
Power is being shut off at Iford Bridge Home Park and occupants are being told to find alternative accommodation and move cars to high ground.
Follow BBC West Midlands on Facebook, on Twitter, and sign up for local news updates direct to your phone.