Environment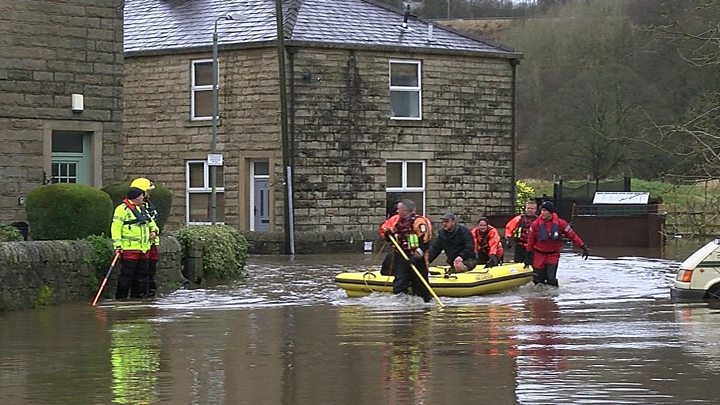 Properties in Bury and Ramsbottom have been evacuated after the River Irwell burst its banks during Storm Ciara.
Residents were urged to "take precautions immediately" and Bury Council set up a "rest centre" at Castle Leisure Centre in the town.
The council said 13 homes in the Redvales area had been evacuated. It is not yet known how many homes in nearby Radcliffe and Ramsbottom are affected.
The Environment Agency has warned residents to be "vigilant".
However, it also said the water levels had now begun to subside.
Doreen Fillingham, whose home on Radcliffe Road in Redvales was hit by floods in 2015, said residents were "fed up of all this".
"We lost everything the first time and I've just had a new carpet put down," she said.
"It's a waiting game. They keep saying they're doing the flood barriers, but nothing seems to be getting done."
Joel Wakelyn, who lives in the Summerseat area, said: "We woke up about 07:30 to about four or five inches of water in the kitchen and living room. It was black water.
"It had all washed through from the road. It's absolutely devastating."
Nicola Crook said her three-year-old daughter was her "main concern" as she left her flooded house in Strongstry in Ramsbottom.
She said: "We just wanted to get out. The water was coming up through the floor."
Bury Council said all residents – and their pets – affected by flooding were welcome at the leisure centre, which is currently closed to customers.
Alan Quinn, the council's floods lead, said the town's flood defences had lessened the impact as if they "weren't there, things would have been as bad as the Boxing Day floods of 2015".
However, he added he had been with "a poor householder who has been flooded out four times – in 2009, 2012, 2015 and now – and they said it's just soul-destroying".
In central Ramsbottom, Kenyon Street has flooded and the fire service is pumping out houses.
Manchester Road, near Park Farm, has also flooded with stranded cars that tried to get through the standing water.
Environment At the scene
Anna Jameson, BBC Radio Manchester
Dozens of people are gathered at the Castle Leisure Centre in Bury, after having to leave their homes in Redvales.
This isn't their first experience of flooding – it happened as recently as Christmas 2015.
Dozens of homes in the Warth Road area – a mixture of social and privately-owned houses – have been affected after the nearby River Irwell burst its banks.
People were advised to evacuate by Environment Agency staff, and many who are now at the leisure centre just don't know the state of their homes.
They have been given hot drinks, slippers and clothes and council leader David Jones and Bury North MP James Daley have visited.
But some here feel angry that it's happened again and want to know why the area's flood defences appear not to have worked in all areas of the town.
The A56 near Ramsbottom remains flooded and Nuttall Park in the town is completely under water, including the play area.
Close Park in Radcliffe has also been flooded.
North of Bury, in Lancashire, the centre of Rawtenstall was flooded and Crawshawbooth and Helmshore have both had areas affected by rising water.
Across Greater Manchester, fallen trees have affected Metrolink trams, and floods have affected rail services, caused road closures and forced the postponement of Manchester City's clash with West Ham.
Manchester Airport recorded gusts of 86 miles per hour as planes struggled to land.
Northern has cancelled more than 140 trains across the north of England with the rail firm issuing a warning to passengers not to travel between Todmorden and Rochdale.