Environment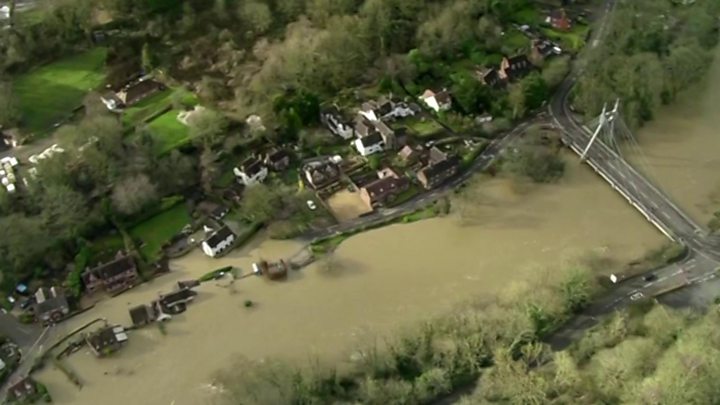 An emergency evacuation took place as rising waters on the River Severn "overwhelmed" a town's flood defences.
Buckled barriers at Ironbridge, Shropshire, meant water seeped underneath, resulting in police evacuating part of the town.
West Mercia Police, which oversaw the evacuation, said "virtually everyone" in the Wharfage area had agreed to leave.
Residents were earlier evacuated from their homes in Bewdley, Worcestershire.
There, water came over the top of some of the town's flood defences.
The barriers in both areas have been trying to keep a swollen River Severn from residents' doors.
A risk-to-life flood warning remains for the Severn in Ironbridge following days of heavy rain, although the same severe warning for neighbouring Shrewsbury has been downgraded as river levels fall in the town.
Elsewhere, flooding has also seen:
River levels continue to rise in Worcester, where they are expected to peak overnight
Levels being monitored at Upton-upon-Severn and settlements below that, including Tewkesbury
Disruption to train services in and out of Shrewsbury station
Villagers in Snaith, East Yorkshire, criticise authorities for failing to give them enough time to save their possessions from flood waters
Deputy chief constable Julian Moss, from the West Merica force, said on Wednesday evening that "virtually all" residents who had previously chosen to stay in their properties in Ironbridge had now left.
About 35 homes are believed to have been evacuated in the Wharfage.
The force said it would ensure displaced residents were "put up" and officers would remain in the area throughout the night and over the coming days.
Earlier, Chris Bainger from the Environment Agency (EA) said barriers had become "ineffective", with water "getting underneath".
Structural engineers were onsite, police said, but in the meantime the force had taken "the practical worst case scenario" in ordering an emergency evacuation.
A drone has been used to survey a 500m section of the temporary flood defence after residents reported hearing a loud bang when a barrier was shunted by the fast-flowing Severn.
Mark Sitton-Kent, director of operations for the EA, said: "That movement of it backwards caused it to clatter against the kerbstones behind, with a loud bang that I think everybody heard.
"That alarmed residents and caused a multi-agency response."
He added: "Over the next 24/48 hours as the river level here drops, we will move in and do some work to shore up the area and make sure [the barrier] stays put."
Councillor Shaun Davies, leader of Telford and Wrekin Council, said people should leave their homes and "stay away" from Ironbridge.
"This is a developing situation but it has significantly developed and increased in terms of its dangerousness with regards to the barriers collapsing."
Ironbridge Gorge was one of the first UK locations to be given World Heritage status in 1986, which recognised its importance as a pioneering part of the Industrial Revolution.
The main flood defences in Bewdley had been holding firm but just before midnight on Tuesday, 38 properties in the Beales Corner area of town were either flooded or at risk as water came over the top of barriers.
Many people have been rescued, but about 12 people remain in their homes.
Sally Yardley, 64, left her ground floor flat which overlooks the river.
"The water was rising really quickly… I don't think we ever predicted it would be this bad," she said.
Another Bewdley resident, Adrian Guest, said it had been an "anxious" day.
"There have been bizarre sightings of sofas and fridges floating by," the 53-year-old said. "People gathered in groups worried about the situation upriver at Ironbridge where the stress loads on their barriers could see them collapse at any moment."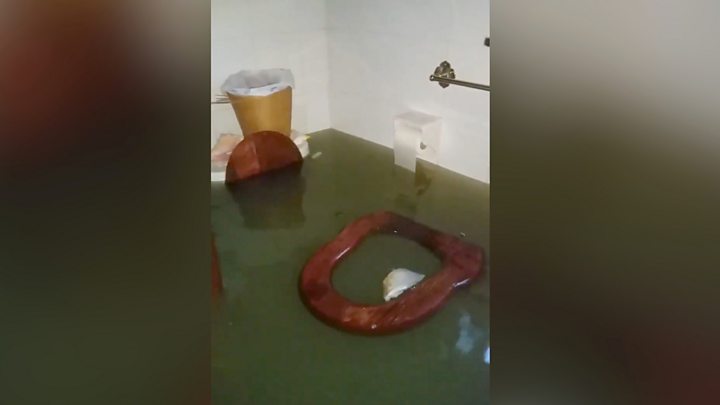 Dave Throup, EA manager for Herefordshire and Worcestershire, said: "The river levels are exceptionally high here at Bewdley and they haven't stopped yet.
"The river is still rising at a much slower rate and we're expecting a peak here probably this afternoon and then that's working its way down the catchment to Worcester."
In Worcester, some homes have been flooded for 10 days in the wake of Storm Dennis.
Hereford and Worcester Fire and Rescue Service has been going house-to-house in Bewdley with a dinghy to help people from their homes.
Among them was Justin Leitch who has lived at his property since August.
"It's unprecedented what's happened over the last week, 10 days, what can you do? People are trying their best," he said.
Sarah, a mum-of-four who also lives in Beales Corner, said her family would be staying put despite a foot of water in her cellar.
"If I thought there was any real danger we would go."
BBC Hereford and Worcester's James Pearson said overtopping at Bewdley started as a trickle then turning into a torrent.
He said the flood water was about the same level as the river and it had not flooded while the temporary barriers were there.
The levels were 14cm off the all-time high from 2000 and they were expected to keep rising steadily throughout the day, he added.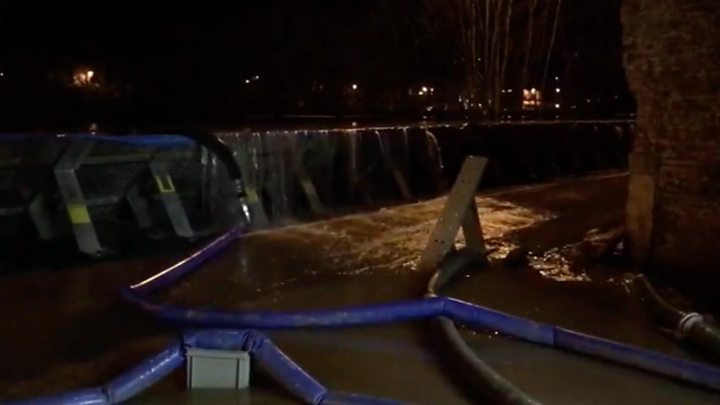 River Severn levels are expected to remain high over the next few days due to "unsettled" weather, the EA said, adding it was "closely monitoring the situation".
At Prime Minister's Questions earlier, Boris Johnson was criticised for not visiting the flood-hit areas.
Labour leader Jeremy Corbyn said the government "refuses to acknowledge the scale of the problem" accusing Mr Johnson of being a "part time prime minister" who is only "keen to pose for cameras during an election".
Mr Johnson said he was "very proud of the response the Government has mounted" to the floods.
---
Follow BBC West Midlands on Facebook, on Twitter, and sign up for local news updates direct to your phone