Environment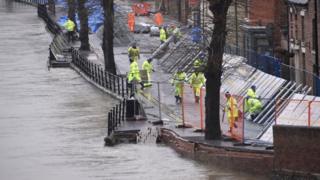 Engineers have repaired damaged flood defences ahead of a new storm that threatens to bring more heavy rain.
Dave Throup, from the Environment Agency, praised the "Herculean efforts" to fix the barriers in Ironbridge, Shropshire before Storm Jorge.
A severe flood warning – meaning a danger to life – for the River Severn at Ironbridge was downgraded on Friday.
In parts of East Yorkshire, residents were evacuated from their homes as floodwater levels rose rapidly.
There are nine yellow weather warnings for rain, wind and snow in force across the UK for Saturday, as the country prepares for the fresh storm.
Barriers along the river in Ironbridge were pushed back 2m (6ft 6ins) as up to 500 tonnes of water per second flowed through the town.
Tim Norton, from the agency, said: "We're not out of the woods yet."
Earlier on Friday, he said engineers had carried out inspections "right the way along the barrier" and were "replacing the parts that need to be replaced and getting it all ready".
Engineers had been "really impressed with how the barriers have held up", Mr Norton added.
"Even though they moved, even though there was some damage, they still did their job.
"The worst hasn't happened… and we're confident they will offer really good protection in the coming days."
Residents were forced to evacuate their homes when water seeped under the defences on Wednesday.
Up to 80mm of rain is expected to fall in parts of Wales when the latest storm hits and the Met Office said the forecast was "not good news" for the already flood-hit communities.
"With the ground being so sodden, there's no capacity at all for that to be absorbed," Chris Bainger, from the Environment Agency (EA) said.
"We'll probably find all that water making its way into the head of the Severn and working its way through."
Dozens of flood warnings are in place along the length of the river, with Shrewsbury and Worcester still recovering from the aftermath of Storm Ciara and Storm Dennis earlier this month.
River levels in Ironbridge have so far dropped by about 1.5m, from a peak of about 6.8m on Wednesday to 5.2m.
Ch Supt Tom Harding, from West Mercia Police, said a fresh deluge was expected to hit the town from Sunday night.
Environment Shrewsbury getting back to business
By Sarah Bishop, BBC Midlands
Everyone seems to be very resilient and getting back to normal as much as they can.
The pub, the Hop & Friar, lost about £15,000 of stock, all that was in the cellar practically, but it is open for business and has been for a few days.
They just put their barrels behind the bar instead of in the cellar.
The Darwin Townhouse B&B still has water in one of the downstairs rooms but the owners are resigned to the fact that is how it is going to be.
The owners had insurance for four years, tried to reinsure just before Storm Dennis struck but could not get any.
In the streets, where people were once canoeing, I can now see children on scooters and skateboards and people pushing pushchairs.
Most people are not even wearing their wellies, they are just going about their day-to-day business.
The shops are open, children have been to school – it just seems a normal day in Shrewsbury.
The defence work follows a visit by Environment Secretary George Eustice who went to Ironbridge and Shrewsbury on Thursday, after Boris Johnson was criticised for not visiting the flooded areas.
Steven Clarke, who runs greengrocers The Allotment in Coleham, Shrewsbury, said the minister only listened to their woes when he was approached.
Mr Clarke fears it could have just been a "PR exercise", adding: "He's assured us that he will go back and there will be more information provided to us.
"I will be looking for answers."
Hereford and Worcester Fire and Rescue Service said it had rescued 185 people from the floodwaters and helped to evacuate a further 204 since 15 February.
It has also rescued 19 dogs, 10 cats, 55 sheep, a pony, a parrot and a snake, the service added.
Follow BBC West Midlands on Facebook, on Twitter, and sign up for local news updates direct to your phone
Are you being evacuated from Ironbridge or the surrounding areas? If you are able to share your experiences email haveyoursay@bbc.co.uk.
Please include a contact number if you are willing to speak to a BBC journalist. You can also contact us in the following ways: