Environment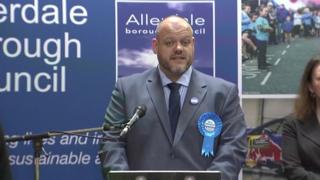 The Conservatives have taken Workington from Labour, which had held the seat with only one interruption since 1918.
Mark Jenkinson beat shadow environment secretary Sue Hayman by 4,176 votes.
A thinktank coined the phrase "Workington Man" to describe the key target voter who would determine the outcome of the election.
There was a further win for the Tories in Barrow, and in Copeland Trudy Harrison was re-elected with a slightly increased majority.
The men of Workington were marked out by Onward, a right-of-centre thinktank, as a key election target.
Mr Jenkinson, who described himself as a working-class Conservative, said the party needed to "deliver for places like Workington and people just like me".
"The people of Workington, Cockermouth, Silloth, Maryport, Aspatria and all the villages in between have a message that they want me to take to Westminster: they want me to get Brexit done," he said.
Workington has elected Labour MPs at every general election since the seat was created in 1918.
It previously had a Conservative MP for just over two years following a by-election in 1976.
The result in Workington comes as the Tories also took Blyth Valley and Darlington in a series of victories across the north of England.
In Cumbria, the party also kept hold of Carlisle, and Penrith and the Border.
Liberal Democrat Tim Farron retained his Westmorland and Lonsdale seat.
He said Boris Johnson and his administration "would now have to own all the wild promises that were made in 2016 and indeed in the last six months since Mr Johnson became prime minister".
"There's nowhere to hide anymore," he said.
"You can't blame it on parliament, you can't blame it on remainers, you can't blame it on anybody other than yourself."
Environment Workington results
Can't see the graphic? Click here
Environment Analysis
By Richard Moss, BBC Look North Political Editor
Right at the outset of the election, we were told Workington Man – a rugby league-loving leave voter – would be crucial to the outcome.
He was someone the Conservatives needed to nab from Labour. And it seems the Tories did win over more than enough Workington men (as well as some women of course).
In the end, they comfortably took a seat they'd only previously held for three out of the last 100 years, removing Labour's Shadow Environment Secretary, Sue Hayman. The new MP Mark Jenkinson is pretty much the model of the Workington man they had to appeal to, so he probably knew a thing or two about how to reach them.
Add in the Tory victory in Barrow and Labour are left without a single seat in Cumbria. Liberal Democrat Tim Farron's Westmorland and Lonsdale constituency is now the only part of the county that isn't true blue.
As in the rest of the North, the Get Brexit Done message seems to have cut through, with Jeremy Corbyn also deeply unpopular on the doorstep.
There's a test ahead though. Brexit could pose problems for the county's industry, and its agriculture. The tourist trade relies on migrant labour. The Conservatives will need to consider these factors as they work out what getting Brexit done actually means.
And their new and old constituents will also expect the party to make good on promises to invest more in the North.
But the county could also get money and powers passed on from London in a renewed push for devolution.
They will come with strings attached though: the need to have an election for a Cumbria-wide mayor – another poll, on last night's showing, the Conservatives would hope to win.
Environment Results lookup