Environment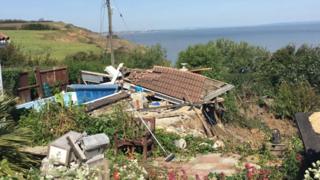 A house that was left hanging over a cliff edge has collapsed.
The property in Eastchurch, Kent, fell down at about 03:00 BST according to neighbours, who said the family had to leave with just the clothes on their backs.
It had been left partially over the edge following a cliff fall on Friday, when 20 homes were evacuated.
Swale Borough Council urged people to stay away from the area in case of further cliff falls.
Fifteen people who had to leave their homes remain in temporary accommodation.
After the house in Surf Crescent was left partially suspended, a car and garage fell down the cliff face on Sunday.
The family had left the property on Friday.
In a statement issued through their friend and neighbour Gemma Stanley, the owner said: "We left the property with just the clothes on our backs. My children didn't even have shoes on. Our lives have been turned upside down."
Another neighbour Edwin Cane said an extension to the side of the house was left hanging until it fell off and ended up "on top of the car that was down there".
He said the main building had collapsed on the top of the cliff.
He has been sleeping in his car to protect his own property from being burgled while empty.
"I've got a dream home and I'm not going to let it go without a fight," he said.
Daisy Batchelor, 93, was among those who had leave her property, but she said she moved back to the house she had lived in for 33 years, adding: "We had nowhere else to go."
The Sheppey Coastal Protection Group has demanded immediate action.
Spokesman Malcom Newell said: "It really needs to be fixed now, not next week, not the week after, now. They need to do do something with it now."
In 2015 the Environment Agency said it had considered a coastal defence scheme, but the number of properties in the area did not justify the cost.
A spokesman for Swale Borough Council said: "Neighbouring properties are currently being inspected to assess the impact of this latest fall, and we are urging people to stay away from the area in case of further collapses.
"Fifteen people from four households who have been evacuated remain in temporary accommodation and we are now working to find them somewhere safe closer to their property."
Follow BBC South East on Facebook, on Twitter, and on Instagram. Send your story ideas to southeasttoday@bbc.co.uk.