Environment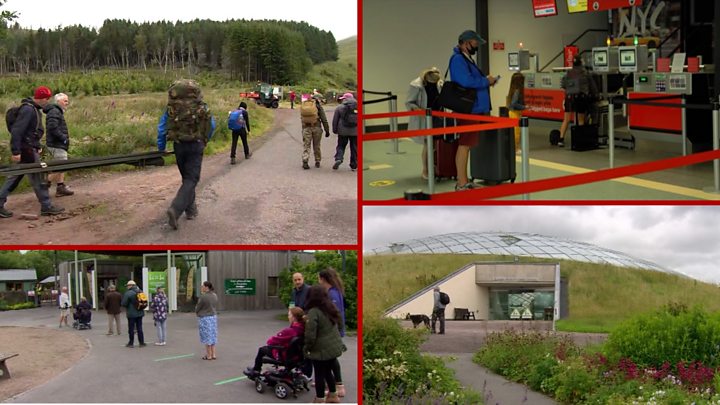 Families and friends are able to reunite and enjoy outdoor attractions as travel restrictions are lifted in Wales.
The "stay local" guidance, asking people to stay within five miles of home, has ended, with no limits on travel.
Outdoor attractions have also been allowed to open, with owners saying they were "thrilled" to return.
Two households will also be able to stay together indoors and overnight.
This relaxation of lockdown restrictions comes as the number of coronavirus cases continues to fall.
But First Minister Mark Drakeford has called for people to think "carefully about where we go and why".
Mr Drakeford called for people to follow the "golden rules" if further restrictions are to be lifted:
Work from home whenever possible
Avoid unnecessary travel
Keep apart from other people – the two-metre rule still applies in Wales
Wash your hands often
Meet people from one other household outdoors
Despite the request to avoid unnecessary travel, from Monday there is no longer a limit to the distance people can travel.
Outdoor attractions, including Wales' national parks, were looking forward to welcoming visitors for the first time since March.
Environment 'Have a Plan B ready'
The Brecon Beacons were open to visitors again on Monday morning, except the area around Llyn y Fan Fach.
A spokeswoman for the Brecon Beacons National Park Authority said they were looking forward to "providing a warm Welsh welcome", but reminded visitors to plan ahead.
"Although footpaths and car parks are open, many associated facilities are not," she said.
"Please remember that if it feels too crowded, it is too crowded and have a 'plan B' ready for your visit."
The National Park Visitor Centre building remains closed, but toilets will be open to the public and information staff will be based outside.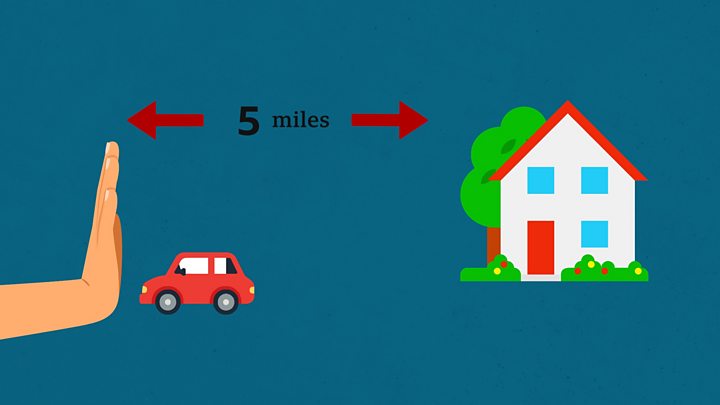 A spokeswoman for Brecon Mountain Rescue said teams had been training for the past few weeks with use of personal protective equipment (PPE) specifically in the mountain environment.
"We're hoping that people will be sensible and gradually get themselves safely back into the mountains, but there may be an increase in calls towards the weekend," she said.
"If something was to happen, there could be a limited response of mountain rescue members, due to trying to limit the amount of members on the hill and minimise risk of covid to everyone involved."
She reminded visitors to stay within their limits, ensure they have the right equipment with them, to plan ahead and check weather conditions.
Meanwhile, as Snowdon reopened, Snowdonia National Park ran a social media campaign to make visitors aware of how to keep themselves safe and protect wildlife.
Zip World said it was "thrilled" to be reopening its north Wales sites in Bethesda and Betws-y-Coed, although some of its other attractions remain closed for now.
Commercial director Andrew Hudson said: "We are outdoors In the fresh air. But there is a lot of planning behind the scenes to ensure people's safety. We've gone to great lengths to protect people while they're here."
Visitor Tony Martin, from Oldham, celebrated his 73rd birthday there today.
"They've been absolutely brilliant as regards safety measures and managed to combine that with a good welcome. I had happy birthday sung to me in Welsh at the top so that was absolutely brilliant," he said.
Staff at the National Botanic Garden of Wales at Llanarthne, Carmarthenshire, which celebrated its 20th birthday during lockdown, said they were confident about safety.
"Huge thanks to all our members, visitors, staff, volunteers, friends and everyone for sticking with us through these strange and difficult times," they said.
"With 568 acres [230 hectares], we're more than confident we can meet all the social distancing guidelines but you will notice some changes which are designed to keep everyone safe."
They asked visitors to expect queues as they carefully control the flow of visitors, which they are limiting to 500 each day.
Environment 'We were running out of things to do'
At Duffryn Gardens in the Vale of Glamorgan, visitors said it was "amazing" to be be able to walk around the National Trust site again.
Mum Hayley Graham, from Barry, said: "To be honest we were running out of things to see and do so to be able to come back is wonderful."
Rebecca Williams, assistant director for the National Trust in Wales, said: "The Trust is delighted to be able to welcome visitors back to places they enjoy.
"We know how much our properties mean to people and how much they've missed them during the lockdown."
Head gardener Chris Flynn said a skeleton staff of just four looked after the 90-acre site during lockdown instead of the usual 16.
"We had such a fantastic spring and it was very strange not to have people here to enjoy it. We're very pleased to be able to welcome people back now," he said.
Environment 'People want to be safe'
Travel restrictions were introduced across the UK at the start of lockdown in March, although Wales kept its travel restrictions longer than the UK government did in England.
Tourist hotspots in Wales – such as Tenby in Pembrokeshire – were preparing for an influx once the restrictions are lifted.
Mayor Sam Skyrme-Blackhall admitted there had been a dilemma between balancing the need to kick-start the local economy while also maintaining the safety of both locals and visitors.
"It's very daunting at the moment – obviously people are very worried, but there are two sides to that – people want to be safe, but also we need to support our businesses," he said.
"Tenby relies heavily on tourism, which in turn provides jobs for the local community. If we're not allowed to open, there will be no jobs and a lot of businesses will close by the winter."
Environment Back in the air
It is not just restrictions on roads and rail that have been lifted – Cardiff Airport has officially reopened to passengers, with flights to Spain and Portugal on Monday.
A single flight from Spain flew out of the airport on Friday, against Welsh Government advice.
But now operations are back with with industry support.
Operator Ryanair has been the first airline to restart services, with Vueling and Eastern Airlines also resuming in July.
"Having passengers back has been great," said director of operations Ceri Mashlan.
"A lot of work has been put in place to ensure we follow all the guidance."
Strict social distancing measures have been introduced, along with other coronavirus measures:
Face coverings must be worn in the airport, by both passengers and staff
Perspex screens are in place at customer service points
Air stewards will be on duty throughout the terminal spaces to offer advice and reassurance
Airport officials said they expected flights from other operators, including TUI and KLM to resume during August.