Environment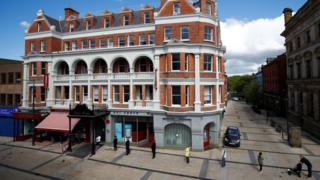 The first and deputy first ministers have suggested that they do not support placing dates on phases of lifting lockdown restrictions in Northern Ireland.
The executive has been meeting to discuss how and when Covid-19 measures should be eased.
On Friday, the Republic of Ireland's government announced a timetable for lifting restrictions, starting 18 May.
The NI executive must review its own coronavirus laws by this Saturday.
The regulations initially took effect on 28 March, and have already been extended once by the executive.
Ministers have previously warned that while they want to publish a plan setting out how to ease the lockdown, any relaxing of the current restrictions will be slow and gradual.
Environment 'Balancing act'
The Irish government has set out a five-stage approach, running from 18 May to 10 August, to help the Republic of Ireland reopen slowly.
Speaking at the NI Executive's daily press conference on Monday, Deputy First Minister Michelle O'Neill said using projected dates, as the Republic of Ireland has done, could pose challenges.
"I believe there are difficulties presented by putting down dates, and people then work to that," she said.
"Every action will have an impact in terms of virus spread, it is a balancing act."
On Monday, a further six deaths related to Covid-19 were reported by the Department of Health.
Five of the deaths happened in the last 24 hours, while one occurred earlier but has only now been recorded.
It takes the total, mostly comprising of hospital deaths, to 387.
These figures are one of two sets published in Northern Ireland – the other are weekly statistics from statistics agency Nisra, which cover all deaths where coronavirus has been recorded on the death certificate.
By 24 April, Nisra had recorded 393 Covid-19 related deaths here.
The total number of confirmed coronavirus cases in NI now stands at 3,836.
The number of people who have died with confirmed coronavirus across all settings in the UK has risen by 288 to 28,734.
Environment 'Work with us'
Ministers are trying to work out which areas would pose least risk and offer the most benefit if the rules are relaxed, said Arlene Foster.
The first minister added: "While many of you are anxious for us to produce a plan immediately, we must remain focused on getting it right.
"The challenge for this executive is how do we loosen restrictions in a way that is science-led, proportionate and not going to expose society to another infection.
"We are planning for change but until then, we need you to work with us."
The executive will meet throughout the course of this week to discuss the plan before it will be made public.
The UK government, meanwhile, is due to set out its proposals on Sunday, following a meeting of the emergency Cobra committee involving ministers from the devolved administrations.
"We will be part of the Cobra call later this week, and we'll have a clearer view as to what the prime minister will be saying, as regards moving ahead," said Mrs Foster.
"I think it's important we look at the totality of what is going on so we can plan in the fullest way."
The first minister had previously suggested Northern Ireland's lockdown restrictions could be lifted at a different pace to the rest of the UK.
Environment In other developments on Monday:
The leaders of Northern Ireland's four main Christian Churches say now is not the right time for a return to collective worship
Economy Minister Diane Dodds calls for more "national support" for the higher education sector
One of Northern Ireland's largest house builders, Hagan Homes, resumes work on eight of its sites
Reduced hot-desking and alternatives to social distancing where it is not possible, are among measures being considered to let workplaces reopen.
Earlier, Justice Minister Naomi Long said while there would be co-ordination with the Republic of Ireland, there would need to be differences in Stormont's plan.
Environment No 'a la carte easing'
"I think we are likely to be emerging on a similar trajectory but much of the funding that supports people through this will come from London," she told BBC Radio Foyle's Breakfast show.
"We have to be cognisant of that because we can't ask businesses here to stay closed if the funding to support them is drying up from London with no replacement."
Stormont ministers recognise the lifting of any restrictions will not be without risk.
Mrs Long said she would not support moves that could lead to an "a la carte" easing of measures, which could prompt a bigger spread of the virus in Northern Ireland.
Last week, DUP Agriculture and Environment Minister Edwin Poots called for churches and garden centres to reopen on a controlled basis.