Environment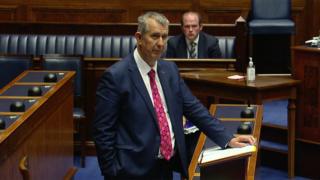 The permanent secretary of the Department of Agriculture Environment and Rural Affairs (DAERA) has apologised to Edwin Poots for a briefing he received on climate change.
It led to the minister saying his officials did not accept the terms climate crisis or climate emergency.
On Thursday, senior civil servant Denis McMahon told a Stormont committee: "We got it wrong."
Earlier, Mr Poots said he accepted that there was a climate crisis.
"We need to do things which change how we currently do things," he said.
"So we need to take significant actions to make that change."
Mr Poots said "others can jump up and down from the sidelines, not actually achieve very much".
He added: "I'll be an achiever."
Speaking on BBC's Talkback earlier this month, the minister said the climate crisis language "is something my department do not accept".
He was criticised by members of other parties and environmental groups.
But speaking at the DAERA committee on Thursday, senior civil servant Mr McMahon said that in preparing for an assembly debate on climate change, officials had submitted a briefing to the minister which "included a line which stated that we should not be using language, such as emergency or crisis".
Mr Poots assumed that it was the position of officials and subsequently gave this view in a media interview, but they believed it was in line with "the minister's policy position in previous statements", Mr McMahon said.
He added: "For those of you familiar with the machinery of government it's normal and appropriate for officials to frame statements lines to take and press releases and words that reflect the minister's position.
"We did not, however, make clear that the line was included on that basis, and therefore did not state that the line had not been meant to constitute official advice.
"This was an error, and I apologise to the minister for that error or for any embarrassment, that had caused."
Environment Independent review
Mr McMahon also confirmed an independent review is being carried out by "audit colleagues" into all guidance to the minister on climate change and to consider the need for amendments to the guidance.
Sinn Féin MLA Philip McGuigan accepted the apology to the committee but added that "it doesn't take away from the lack of confidence in the minister and, if anything, it reinforces the view that we now have a minister who doesn't believe we have a climate emergency or climate crisis".
He said there is "very low confidence" in the minister acting on "advice from scientists or advice of department officials" in tackling the climate emergency.
Environment 'Number one priority'
In response, Mr McMahon said his department had not been prevented from working on climate change.
"The minister choses his language in his own way," he added, and he welcomed the fact that Mr Poots used the term "climate crisis" on Thursday.
Another departmental official, David Small, rejected claims the minister has ignored officials' advice on climate change but, instead, revealed that Mr Poots told them that climate change was his number one priority when he took office.
Environment Open letter
Also on Thursday, a group of climate activists, environmentalists, elected representatives and academics have signed an open letter to Mr Poots, calling for new climate change legislation.
Pledges by the executive parties to address climate change were included in the power-sharing deal that restored Stormont in January of this year.
But last week Mr Poots said that introducing the legislation in the next three months is an "impossible" timeframe.
The letter, which includes signatures from Infrastructure Minister Nichola Mallon, Justice Minister Naomi Long and Communities Minister Carál Ní Chuilín, says that there is an opportunity to address the climate crisis but "this window of opportunity is small".
"Climate scientists believe that there is only 10 years before the effects of climate breakdown become irreversible," it adds.
"That is why a Climate Change Act for Northern Ireland is essential and long overdue."