Environment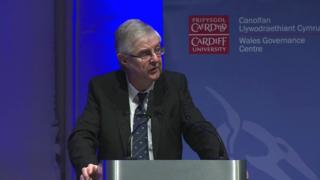 The European Union flag has been lowered outside the National Assembly as Brexit formally takes effect.
The UK left the EU at 23:00 GMT, three-and-a-half years after the June 2016 referendum.
Earlier on Friday, First Minister Mark Drakeford said whatever "feelings we have in our heart", Wales was leaving the EU with "our heads held high".
Conservative Welsh Secretary Simon Hart vowed the UK government would "make our union stronger".
Mr Hart was among the ministers taking part in a cabinet meeting in Sunderland, the first city revealed to have backed Leave as the referendum votes were counted in June 2016.
Prime Minister Boris Johnson said Brexit was "not an end, but a beginning" in a speech on Friday evening.
The Welsh Assembly's EU flags, which stand outside the Senedd and Ty Hywel buildings in Cardiff Bay, have been replaced with Welsh flags.
Wales voted to leave the EU at the 2016 referendum by 52.5% to 47.5%.
Mr Drakeford, Welsh Labour leader as well as first minister, gave a speech in Cardiff on Wales' future relationship with Europe.
"Whatever the different feelings we have in our heart" on departing from the bloc, he said, "we do so here in Wales with our heads held high".
"Wales remains a European nation – we are citizens of the world as well as of Wales and at 11 o'clock today all of that will be not less but more important than ever."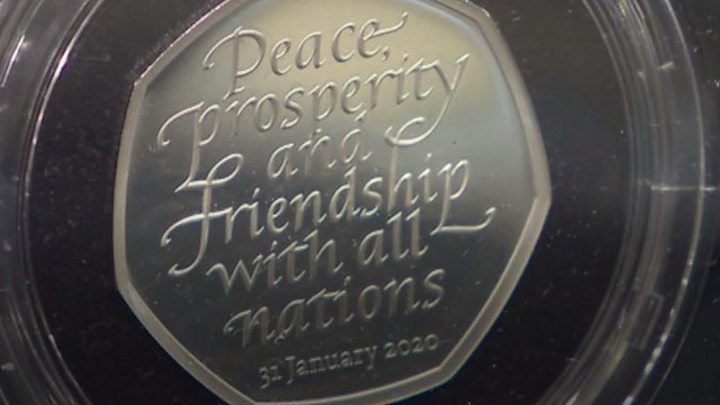 Mr Drakeford also warned the prime minister that Wales and the Welsh Government would "not be hoodwinked by any simplistic assertion that Brexit is now over and done".
"We will not be browbeaten by the assertion that the decision to leave the European Union is a decision that brings an end to debate or to discussion," he said.
"We will not simply be bored into submission by the reality that Brexit is with us, not just for today but for years and years to come.
"Leaving the European Union brings stresses and strains in the United Kingdom as well," Mr Drakeford added.
"The Welsh Government will be there as we have been over recent years leading the call for serious attention to be given to the way in which the United Kingdom is to operate together in the aftermath of our membership of the European Union."
Environment 'Exciting and a relief'
Attending a party in Cardiff for Brexit Party assembly members and staff, Caroline Jones said Brexit was both "exciting and a relief".
"We can now all move on as Wales and as the UK," the party's AM for South Wales West said.
"We hope investors will now be attracted to our little country, Wales, because we are open for business to the rest of the world.
"We want unity, peace and stability because that's what we haven't had. We were in limbo for three-and-a-half years so it's exciting, and a relief in a lot of ways."
Environment 'Utterly dependent'
Sally Stephenson, the owner of a stationery shop in the Vale of Glamorgan, said her business was "utterly dependent on the single market".
"I think people think the single market is for big business like Airbus and Tata Steel but a small one like this on Cowbridge high street is really reliant on bringing stock in from the single market," she said.
"I import stock from France, Germany, Italy, Denmark, Romania – it comes from everywhere."
While the UK will leave the EU's political systems on Friday night, it will enter a transition period where the country sticks to European Union rules.
This runs to the end of 2020, during which time the UK government holds negotiations on a future trading relationship with the EU.
Welsh Secretary Simon Hart said: "Today marks a new chapter in our history as we finally deliver on the decision made by the Welsh people and leave the EU.
"We are leaving as one United Kingdom with a mission to build better infrastructure, make our streets safer, clean up our environment and make our union stronger."
Andrew RT Davies was a prominent figure in the 2016 Welsh Vote Leave campaign, when he was serving as Welsh Conservative assembly group leader.
He said: "It's now incumbent on politicians of all colours to put the rancour and division of the past three years behind us and put our shoulder to the wheel to deliver a brighter future for Wales and the United Kingdom."
Plaid Cymru had been among the parties battling for Remain. Earlier this week party leader Adam Price vowed to make Brexit work for Wales "as best we can".
Mr Price said: "Wales will always be friends of Europe and nothing will change that."
The European Commission office in Cardiff, which closes on Saturday, tweeted its farewell, saying: "We would like to take this opportunity to thank all our partners and friends for their close cooperation with the Representation over the past 47 years.
"It has been a pleasure and a privilege working with you all."
Environment Analysis by David Deans, BBC Wales political reporter
Wales' vote to leave the European Union in 2016 amounted to a major turning point in the political history of the country.
It came despite support for Remain from Welsh Labour, which has dominated politics in Wales for a century.
Assumptions Wales was a pro-EU nation, in part because of billions in structural funds it has received, evaporated overnight.
It was a result that left senior politicians in Cardiff with a dilemma about how to respond.
Welsh ministers remain concerned at the impact that restrictions on trade could have on sectors of the Welsh economy reliant on EU markets, as well as who will control what replaces EU funds.
Labour lost six seats in Leave voting areas in Wales in December's general election, to a Conservative Party promising to get Brexit done.
The question is, with assembly polls looming in 15 months, whether the Brexit debates of the last three years will have an even deeper impact on Wales' political landscape.