Environment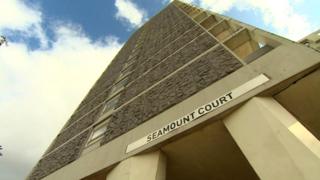 Aberdeen councillors have called for a number of high rise blocks in the city not to be made listed buildings.
The towers are being considered by Historic Environment Scotland (HES).
Councillors have asked the chief executive to write to HES to say that, as a corporate landlord, the council cannot support the listing as it could lead to higher maintenance costs.
Separately, the city's planners have decided to respond neutrally to the HES consultation, which ends on Friday.
The high-rises involved – built in the 1960s – are Gilcomstoun Land, Porthill Court, Seamount Court, Virginia Court, Marischal Court, Thistle Court, Hutcheon Court, and Greig Court.
The concrete buildings were built as council flats.
They were nominated by Prof Miles Glendinning, director of the Scottish Centre for Conservation Studies.
Environment 'Historic interest'
A spokesperson for HES said "We were asked by Aberdeen City Council to extend the consultation to give them more time to consider their position and to discuss the proposals within their council.
"During this period of extension we were able to meet with representatives of the city-wide multi storey committee and speak directly to elected members about the listing proposals.
"We have been engaging with local stakeholders throughout the consultation process, and will be carefully considering all the feedback we have received before making a decision after the consultation closes. We have consulted on listing these buildings at category A because of their outstanding architectural and historic interest."
If the Aberdeen tower blocks were ultimately listed, they would follow the so-called "Banana Flats" in Leith – made famous by Irvine Welsh's Trainspotting – which were awarded an A-listing two years ago.
The curving flats were home to the Simon "Sick Boy" Williamson character.