In_pictures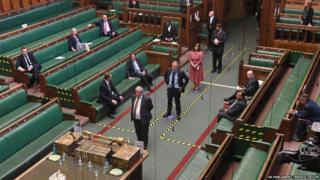 Vulnerable MPs will be able to vote by proxy, Boris Johnson has insisted, amid continuing anger over the decision to end remote voting in the Commons.
The PM said he understood the concerns of MPs who were shielding due to health conditions, their age or caring duties about having to vote in person.
But he defended MPs having to queue to vote, saying "ordinary" people were doing the same when they went shopping.
Labour leader Sir Keir Starmer said the situation was "shameful".
A government motion permitting MPs to vote by proxy on health grounds will be debated on Thursday.
However, leading MPs, including the chair of the Procedure Committee Karen Bradley, have expressed concerns that people will be forced to divulge sensitive information about their own medical conditions and the existing rules on proxy voting – for MPs on parental leave – are due to expire next month.
On Tuesday, the House agreed to reinstate a physical Parliament, despite a rebellion by 10 Tory MPs.
Raising the issue at Prime Minister's Questions, the Labour leader said it was "shameful" that some MPs were unable to vote and called on the prime minister to end the "completely unnecessary and unacceptable" process by bringing back online voting.
Mr Johnson said he apologised "to all those with particular difficulties because they're shielding or they're elderly" adding "they should be able to vote by proxy".
However he did not commit to bringing back online voting for all MPs and said: "I do not think it unreasonable to ask parliamentarians to come back and do their job."
"I do think (Sir Keir) needs to consider what is really going on throughout the country where ordinary people are getting used to queuing for long periods of time to do their shopping or whatever it happens to be."
The PM's announcement was welcomed by Conservative Robert Halfon who is shielding for medical reasons. He said he it was "good news" and thanked other MPs who have campaigned on the issue.
Ms Bradley pointed out that the proxy scheme was due to expire in July 2020 and said it was "not suitable to be extended to several dozen members".
A Labour spokesman said: "The fact the government has u-turned in the middle of the PMQs shows how chaotic this entire situation has been."
In_pictures Forty-six minutes
On Tuesday, Commons Leader Jacob Rees-Mogg laid down a proposal ending the virtual Parliament. He argued the hybrid Parliament does not allow MPs to properly hold the government to account and they must attend in person.
An amendment to that proposal – to allow remote voting – gained the support of 31 Tory MPs, including select committee chairs such as Tom Tugendhat and Greg Clark, and former ministers such as Tracey Crouch and John Redwood, but it failed to pass.
Tuesday's votes saw MPs queuing up outside the Commons chamber to observe social distancing, before walking to the Speaker's chair to say their name and which way they were voting.
It drew criticism from a number of members, who posted pictures on social media of the queue outside the building or in Portcullis House – a building opposite the Houses of Parliament where many MPs' offices are located.
The first vote to take place under the temporary system took 46 minutes – compared to the usual time of around 15 minutes before social distancing measures were brought in.
Labour MP Alex Davies-Jones said the way the vote took place had made her "angry", telling the BBC: "The whole voting system has completely fallen apart. It's ridiculous, dangerous and unsafe."
Under the plan agreed on Tuesday – which will be place until 7 July – Speaker Sir Lindsay Hoyle has to come up with a physical voting method that respects coronavirus guidance from Public Health England.
The government plan to return to a physical Parliament has been strongly criticised by MPs from all sides of the House, who warn it will exclude vulnerable MPs and those with caring responsibilities.
A number of Scottish MPs also said they worried that making the long journey to and from Westminster risked endangering their families and constituents.