In_pictures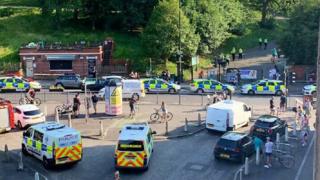 Police have dispersed large crowds from a park in Glasgow and two men have been arrested in connection with disorder offences.
Officers said they attended Kelvingrove Park on Thursday evening because of the number of people there, many of whom were drinking.
A large crowd was also reported to have gathered in The Meadows in Edinburgh.
Nicola Sturgeon said crowded places, even outdoors, risked a resurgence of Covid-19, which is "still out there".
Current lockdown restrictions prohibit gatherings of more than eight people.
In a post on Twitter, in response to reports of the Glasgow gathering, the first minister said: "I understand the desire to enjoy the hot weather – but PLEASE don't jeopardise our progress.
"Follow the rules – they're for the protection of you and your loved ones. My thanks to @policescotland for helping keep us safe."
Scotland's former chief medical officer Sir Harry Burns said such gatherings posed a serious risk of starting a second wave of the coronavirus outbreak.
He told the BBC Radio's Good Morning Scotland programme: "If there was one person in Kelvingrove Park yesterday capable of spreading the virus then they may have spread it to three or four other people, who may go on to spread it to three or four other people.
"Before you know where you are there are 12 or 20 people who have been exposed to the virus.
"They go home, they are maybe living with parents and siblings, and, before you know where you are, you have got another outbreak that needs to be dealt with."
In Edinburgh, concerned locals got up at dawn to clear up rubbish left behind by a large crowd that gathered at The Meadows.
Some of the bags they collected were later arranged as a giant number 2482 on the ground – the total number of deaths so far in Scotland of people who have tested positive for Covid-19.
Crime novelist Ian Rankin is among those who have drawn attention to the amount of rubbish left behind by people gathering in Edinburgh's parks in recent days.
Earlier on Thursday, a major incident was declared in Bournemouth on the south coast of England as thousands of people flocked to the coast, prompting a warning from UK chief medical officer Chris Whitty.
While there was no major incident declared in Glasgow, police said they were forced to act because of the large numbers of people who had gathered, many of whom were drinking in contravention of local by-laws.
Insp Lesley Docherty said: "The regulations remain that people should only leave the house for very limited purposes, for example for basic necessities, for exercise or recreation, for medical needs or travelling for work which cannot be done from home.
"The chief constable has made it clear that we are asking people to take personal responsibility to do the right thing and remember the purpose of these measures is to aid the collective effort to stay safe, protect others and save lives by preventing the virus from spreading."
In_pictures Protest warning
Police Scotland has also issued a warning about a number of protests that are scheduled to take place this weekend.
Last Saturday saw a heavy police presence in Glasgow to avoid a repeat of disturbances earlier this month when far right groups turned up at a rally in support of refugees.
Assistant Chief Constable Bernard Higgins said: "We live in a democratic society and Police Scotland is absolutely committed to respecting people's rights to freely and peacefully express their views.
"Recent disorder in George Square saw people hijacking a peaceful event with the intention of violence and thuggery.
"This remains completely and utterly unacceptable and we will not tolerate these scenes, including attacks both physical and verbal on the public and our officers.
"My message to those who have been involved in the disgraceful scenes witnessed over the last couple of weeks is that if you continue to behave like this then be prepared to be arrested."