In_pictures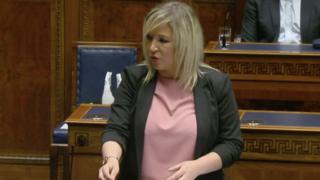 NI assembly members have backed a motion calling on two Sinn Féin ministers to apologise for attending the funeral of IRA man Bobby Storey.
However, the motion has no power to force the ministers to comply.
Deputy First Minister Michelle O'Neill and Finance Minister Conor Murphy deny breaching social-distancing rules in attending the funeral on 30 June.
During a two-hour debate at Stormont, Ms O'Neill repeated that she was sorry grieving families had been hurt.
The deputy first minister said it was not her intention to hurt anybody. However, she maintained she had adhered to the coronavirus guidelines.
"I'm satisfied that I did act responsibly," she said.
"At no stage did I seek to give offence to anyone, including this chamber, nor would I ever seek to do so."
She added it was "unfortunate this matter has divided the executive and the assembly that many of us have worked so hard to restore".
Members of the other parties accused Ms O'Neill and Mr Murphy of undermining the executive's message on Covid-19.
DUP assembly Christopher Stalford said her credibility had been "shot to bits" and her party was behaving in a manner which would shame the Trump administration.
Speaking for the Alliance Party, Kellie Armstrong said an apology for the ministers' attendance would not have been enough and she does not believe people can trust executive messaging again on Covid-19 because of their actions.
Ulster Unionist Party (UUP) leader Steve Aiken told the chamber if Northern Ireland was a "normal democracy" the ministers would have "done the decent thing and resigned".
In_pictures Where does it go now?
Analysis by Gareth Gordon, BBC News NI Political Correspondent
Predictably this motion calling for Michelle O'Neill and Conor Murphy to apologise passed comfortably.
Just as predictably the other parties did not get the apology they wanted though the deputy first minister again said sorry to grieving families whose hurt has increased because of the events of the past week.
So where does it go now?
The Democratic Unionist Party has made clear they have no intention of bringing down the executive, especially during the coronavirus pandemic.
With all the other parties lined up against them on this issue, Sinn Féin are still in an uncomfortable position.
For the foreseeable future the executive's united front lies in tatters.
Daniel McCrossan said assembly members had to practise "what we preach".
The SDLP assembly member added that his party had wanted to pay a bigger tribute to long-standing MLA John Dallat, who died in May, but chose not to because of the coronavirus guidance.
He said to many people there was a "hierarchy of pain".
Meanwhile, Belfast City Council has strongly denied allegations 61 people attended Mr Storey's cremation.
The claim was made by UUP Belfast city councillor Jim Rodgers.
On Tuesday, the council apologised over how it dealt with Mr Storey's family at Roselawn Crematorium compared to other families, including allowing 30 people to attend.
In a statement issued on Tuesday evening, the DUP's group on the council called for an emergency meeting on Friday and an independent investigation into the events.
Ms O'Neill has already apologised "for grieving families experiencing more hurt" following her attendance at the funeral and said criticism of Sinn Féin's conduct was "political point-scoring".
She was part of the funeral cortege, attended the Requiem Mass and was present for an oration at Milltown Cemetery, but is not believed to have been present for the cremation at Roselawn.
Mrs Long told the BBC's Good Morning Ulster programme: "We recognise and we welcome the fact that Michelle O'Neill has acknowledged that hurt has been caused to those who had to say their farewells to their loved ones in a very different manner.
"She has yet to acknowledge the harm that has been done to the reputation of the executive and to her own standing."
At Mr Storey's funeral, a number of pallbearers were pictured carrying his coffin, including former Sinn Féin President Gerry Adams and North Belfast MLA Gerry Kelly.
New guidance on funerals makes it clear that coffin lifts are not recommended unless all pallbearers are from the same household.
It says "it is unlikely that pallbearers would be able to maintain a 2m distance from each other, and such practices should not be permitted".
The Department of Health said the advice applied to all funerals, regardless of the cause of death.