Environment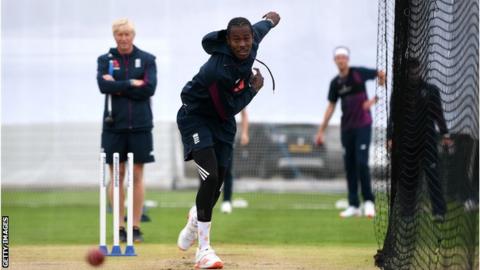 England fast bowler Jofra Archer was excluded from the second Test against West Indies after breaching the bio-secure protocols.
The 25-year-old went to his Brighton home between the first Test in Southampton and second in Manchester.
All of England's matches this summer are being played behind closed doors and in a bio-secure environment.
"I am extremely sorry for what I have done. I feel like I have let both teams down," said Archer.
With Mark Wood and James Anderson rested, Archer was set to be the only member of England's pace attack from the first Test retained in the side for the second.
After he was excluded, England opted to include Stuart Broad, Chris Woakes and Sam Curran in their side at Emirates Old Trafford.
England captain Joe Root said Archer's actions were "disappointing".
He also said any questions over why players made their own way between venues, rather than travelling together, were for those making logistical arrangements, rather than him.
'I have let both teams down'
Archer, who made his England debut last summer, said: "I have put not only myself but the whole team and management in danger. I fully accept the consequences of my actions and I want to apologise to everyone in the bio-secure bubble.
"It deeply pains me to be missing the Test match, especially with the series poised."
Former England captain Michael Vaughan told BBC Test Match Special: "I would think the management would feel very let down. He's a young kid who has made a silly mistake, and England will miss him.
"I look at the West Indies and what they've given up to be here.
"They have come to a country that has been hit by Covid more than most. They've had to live at Old Trafford for two and a half weeks. For one England player to break that protocol, when he's only been away from home a couple of weeks…"
Former England captain Alastair Cook said: "It does throw it into a little bit of disarray. England wanted to have some pace and bounce in their bowling attack throughout the summer but now they're going to be robbed of that."
BBC cricket correspondent Jonathan Agnew said: "They put the trust in the player and 99.9% of the people involved have done the right thing."
West Indies limited-overs all-rounder Carlos Brathwaite told TMS: "As a personal friend, I'm disappointed, not only in what Jofra's done, but the scrutiny you get from the media.
"That said, it does not excuse what he does. Without me trying to sound disrespectful or accepting of what he did, there's a lot worse things he could have done, outside of popping home."
How did it happen?
Cook said all the England players would have known they were not allowed to return home between Tests.
"He knew what he was doing was wrong," said Cook. "He will have been briefed; he's been in the bubble for long enough.
"Someone will have questioned 'can we go home?' and it would have 'no, this is what we've agreed to'.
"What we don't know is did he go home to get something he genuinely needed and it's just a mistake."
Vaughan said: "I'm led to believe that (team manager) Phil Neale sent a WhatsApp group message to the England players just before 7:50 this morning saying 'I need to see you all', before the news about Jofra Archer got out at 8am.
"One or two of them didn't see it because they were fast asleep and woke up about 8:30-8:45 and were like 'eh what's going on here?'"
Archer must now isolate for five days, during which time he will take two coronavirus tests, both of which must return negative results before he can return to the England squad.
West Indies were informed of the sanctions and were satisfied with the restrictions imposed.
Analysis
An extraordinary amount of planning went into creating the bio-secure environment and the punishment for what some might see as a minor indiscretion from Archer shows just how seriously England are taking the safety protocols.
The England and Wales Cricket Board (ECB) had previously acknowledged the need for players to leave the bubble from time to time, but on this occasion they were expected to head straight from Southampton to Manchester.
The experience in Southampton demonstrated just how strict life in the bubble is – regular coronavirus tests, temperature checkpoints, mandatory face masks and hand sanitiser in every location imaginable. The movement of everyone on site – players, staff, media and hotel workers – is tracked by a fob worn around the neck.
Archer will have known what is expected. It is a great shame for him and the England team that he has erred.